Beach, Please!
Beach, Please!
5362 SW Pacific Coast Hwy
Waldport
2 bedrooms
2 baths
Sleeps up to 4
Dog Friendly
$150 - $819/Night
Beach, Please! Here, you only have to ask once to have your beachy dreams fulfilled. Relax and watch the magnificent Pacific Ocean from the comfort of this wonderful two bedroom, two bath oceanfront home. Large west-facing windows and a covered outdoor patio with panoramic views guarantee you'll get lots of uplifting ocean light as the sounds of the surf break on the shoreline. This oceanfront home comes with every comfort you could possibly need for your beach getaway.

This home sleeps 4 with one bedroom upstairs and one downstairs, both with king beds that can be split into two twins, plus a sleeper sofa. Each floor has its own full bath for extra privacy. The downstairs bedroom has a sliding glass door directly out to the covered patio where you can watch the sun set. Enjoy the open concept upstairs living/dining/kitchen as friends and family gather to watch a movie, cook your favorite seafood, and relax after a long day of enjoying the outdoors. Sit back and unwind as you immerse yourself in the hot tub and gaze at the stars.

When the surf and sand beckon, you have easy access to the beach just to the south of the house at the State Park. From there you can walk for miles and miles in either direction, fly a kite, hunt for seaside treasures, or just relax under the sun or stars. You'll love this home, the beautiful beach it sits on, and its convenient location between Waldport and Yachats. Beach, Please! is a perfect place for a romantic vacation by the sea, but it also sleeps up to 5 guest if you're traveling with family or friends.

Sleeps 4: 2 Kings (can be split into two twins with prior notice), 1 Sleeper Sofa; 2 Baths.
Vehicles: Licensed for 2 (Strictly enforced- No street parking allowed)
Winter: 2 night minimum Standard & Holidays: 3-4 night minimum.
*Each home is individually owned. Amenities and furnishings are subject to change at any time. Please contact our office with any questions.
Beach, Please!
Questions?
Rates
| Season | Period | Min. Stay | Nightly Rate |
| --- | --- | --- | --- |
| December 2023 | 12/01/2023 to 12/14/2023 | 2 | $175.00 to $225.00 |
| Holiday I 2023 | 12/15/2023 to 12/25/2023 | 3 | $295.00 |
| Holiday II 2023 | 12/26/2023 to 01/01/2024 | 3 | $295.00 |
| January 2024 | 01/02/2024 to 01/10/2024 | 2 | $175.00 to $225.00 |
| MLK Holiday 2024 | 01/11/2024 to 01/15/2024 | 3 | $250.00 |
| January 2024 | 01/16/2024 to 01/31/2024 | 2 | $175.00 to $225.00 |
| February 2024 | 02/01/2024 to 02/14/2024 | 2 | $175.00 to $225.00 |
| Presidents Day 2024 | 02/15/2024 to 02/19/2024 | 3 | $250.00 |
| February 2024 | 02/20/2024 to 02/21/2024 | 2 | $175.00 to $225.00 |
| Seafood & Wine Festival 2024 | 02/22/2024 to 02/25/2024 | 3 | $300.00 |
| February 2024 | 02/26/2024 to 02/29/2024 | 2 | $175.00 to $225.00 |
| March 2024 | 03/01/2024 to 03/21/2024 | 2 | $175.00 to $225.00 |
| Spring Break 2024 | 03/22/2024 to 04/07/2024 | 3 | $343.00 to $375.00 |
| April 2024 | 04/08/2024 to 04/30/2024 | 2 | $210.00 to $270.00 |
| May 2024 | 05/01/2024 to 05/23/2024 | 2 | $195.00 to $250.00 |
| Memorial Day Weekend 2024 | 05/24/2024 to 05/27/2024 | 3 | $350.00 |
| May 2024 | 05/28/2024 to 05/31/2024 | 2 | $195.00 to $250.00 |
| June 2024 | 06/01/2024 to 06/30/2024 | 3 | $312.00 to $406.00 |
| July 2024 | 07/01/2024 to 07/01/2024 | 3 | $511.00 to $665.00 |
| July 4th Holiday | 07/02/2024 to 07/07/2024 | 4 | $819.00 |
| July 2024 | 07/08/2024 to 07/31/2024 | 3 | $511.00 to $665.00 |
| August 2024 | 08/01/2024 to 08/29/2024 | 3 | $506.00 to $742.00 |
| Labor Day Weekend 2024 | 08/30/2024 to 09/30/2024 | 3 | $573.00 |
| October 2024 | 10/01/2024 to 10/10/2024 | 2 | $330.00 to $438.00 |
| Columbus Day Weekend 2024 | 10/11/2024 to 10/14/2024 | 3 | $472.00 |
| October 2024 | 10/15/2024 to 10/17/2024 | 2 | $330.00 to $438.00 |
| Yachats Mushroom Festival 2024 | 10/18/2024 to 10/20/2024 | 2 | $438.00 |
| October 2024 | 10/21/2024 to 10/31/2024 | 2 | $330.00 to $438.00 |
| November 2024 | 11/01/2024 to 11/26/2024 | 2 | $243.00 to $312.00 |
| Thanksgiving Weekend 2024 | 11/27/2024 to 11/30/2024 | 4 | $618.00 |
| December 2024 | 12/01/2024 to 12/19/2024 | 2 | $225.00 to $300.00 |
| Holiday I 2024 | 12/20/2024 to 12/26/2024 | 4 | $437.00 |
| Holiday II 2024 | 12/27/2024 to 01/02/2025 | 4 | $406.00 |
| January 2025 | 01/03/2025 to 01/16/2025 | 2 | $175.00 to $225.00 |
| MLK Holiday 2025 | 01/17/2025 to 01/19/2025 | 3 | $250.00 |
| January 2025 | 01/20/2025 to 01/31/2025 | 2 | $175.00 to $225.00 |
| February 2025 | 02/01/2025 to 02/13/2025 | 2 | $175.00 to $225.00 |
| Presidents Day 2025 | 02/14/2025 to 02/16/2025 | 3 | $250.00 |
| February 2025 | 02/17/2025 to 02/19/2025 | 2 | $175.00 to $225.00 |
| Seafood & Wine Festival 2025 | 02/20/2025 to 02/22/2025 | 3 | $300.00 |
| February 2025 | 02/23/2025 to 02/28/2025 | 2 | $175.00 to $225.00 |
Reviews
Guest Reviews
---
Beautiful home at an amazing location. The hot tub on the beach makes this experience worth every penny. I wish there were more restaurants closer to the location but still not a far drive from Great food. Definitely recommend!
Amanda , November 2023
---
Great spot right on the beach with cool sights to see nearby. Was better in person than the pictures
Kartik , November 2023
---
Very nice place, was very clean and was directly on the beach. Hot tub was very nice to relax in, in the evenings. Had to drive a bit (8 minutes) to a town with grocery stores, but this place is very pretty so was worth it to not have places closer (it is right between two towns equal distance). It is directly on the road, so during the day you can hear traffic if you are in the house. This wasn't a problem at night.
Patrick , October 2023
---
This place was pretty much as advertised. Fantastic location on the beach. Watching sunsets from the hot tub, or from the beach steps away was pretty awesome.
Travis , October 2023
---
Property is well appointed, comfortable, great access to a nice beach and to many central coast locations. Property management is responsive and check in/check out was easy. Hot tub overlooking the beach was very cozy on foggy autumn mornings. It is just off of hwy101 though, so there is some unavoidable highway noise throughout the day/night.
Alex , October 2023
---
Extremely nice place, close to many options, including town, beaches and others. The place was very clean and well stocked. It served my family very well. This place will be high on our list for next year's visit.
Joel , August 2023
---
We stayed here for my husband's birthday and our first trip to the Oregon Coast. It was so peaceful and relaxing staying here. Lots of shops and restaurants within walking distance. We will definitely be back.
La , June 2023
---
Absolutely beautiful views of the ocean with beachfront access! Home was clean and well taken care of. Hot tub was clean and worked perfectly! A surprising amount of parking space. The only downside was the proximity to the highway but any traffic noise was drowned out by the sounds of the ocean being so close! Beautifully furnished and well stocked. I would book this place again if I came back to the area.
Rachael , May 2023
---
Cute house. Very clean. The view was amazing.
David , May 2023
---
Lovely, bright home right on the beach.
Katie , April 2023
---
Had a wonderful extended weekend at this property! Loved our stay and the super easy beach access and hot tub :) will definitely be back!
Mikayla , March 2023
---
An amazing view and great location. Just what we needed to hide out for a little writing retreat. Looking forward to returning!
Erin , February 2023
---
The house had beautiful views of the beach and ocean. Everyone, including the dog enjoyed staying here! Perfect set up for a weekend stay!
Kathleen , January 2023
---
Beautiful house right on the beach, perfect for our small family of 3. Enjoyed just relaxing, watching the waves and soaking in the hot tub. Would stay again.
Kimberly , October 2022
---
We had a great stay and loved the views! Great communication with property manager. I would recommend it highly.
Kathy , September 2022
---
The house was really lovely, it had everything we needed, a nice jacuzzi and two large king-size bedrooms. The kitchen was well also well appointed and we were able to cook quite a few meals.
Jessica , August 2022
---
Great view, great location, great hot tub! We would to come back.
Aieleen , August 2022
---
Beautiful location right on the beach. The house is clean and modern, fenced yard is great for a dog. Excellent hot tub! Beach chairs were a nice touch and we spent a lot of time enjoying the sand and sun. It was almost like our own private beach a lot of the time. Our two kids were so sad to leave at the end of the weekend. Very enjoyable, highly recommend!
Chelsea , July 2022
---
Awesome place for us to satay to complete relaxation. Place was so clean and there was a tablet that greeted us and helped us check in and a bottle of wine. Place was super clean and fun to stay at. Hosts were communicative and I appreciate that. All around amazing place to stay and will be staying here again.
Brett , June 2022
---
This house was perfect for our little family and our dog. You had direct access to the beach From the backyard, just a little walk down. The hot tub was great and the home was very comfortable. We would definitely recommend this place and say again.
Nicole , May 2022
---
Beautiful spot with beach access, a great hot tub, and a cozy living room!
Paige , May 2022
We loved the bright, cheery atmosphere of Beach, Please! It was clean, easy to access, well appointed, and relaxing.
Nancy, March 2022
____________________________________________________________________________________________
Great location, very clean, we would definitely stay again!
Heather, March 2022
___________________________________________________________________________________________
Location provided a great getaway. Access to beach was a big perk but not totally necessary as the public access is a few houses down. Amazing views of the ocean and covered hot tub got use even during heavy stormy weather. Check in and out process was super easy. Would definitely stay again.
Kevin, March 2022
---------------------------------------------------------------------------------------------------------------------------------------------------------
Highly enjoyed our stay. Great views, clean home and property managers who quickly responded when we had questions. Would 10/10 stay here again.
Taylor, February 2022
___________________________________________________________________________________________
This place is amazing. It's right on the beach. The back opens to a deck with a hot tub - which sits in a fenced yard - with a gate at the back of the fence that opens onto the beach. Access to the beach does require walking down some large rocks, but it wasn't too hard. The view on the top floor is phenomenal. I highly recommend this home.
Marie, December 2021

---------------------------------------------------------------------------------------------------------------------------------------------------------


We had a fantastic time at this gorgeous beach front property. It was so beautiful to watch the waves from the cozy living room or in real life from just a quick jaunt to the beach. Would definitely return!
Erin, Novemberl 2021
Loved the view and the nice open feel in the living room! Little loud with the cars if you have the window open in the bedroom but other than that we had zero complaints! Very clean with a cozy feel. Would definitely stay again.
Shelby, October 2021
______________________________________________________________________
Such a beautiful property and the view was amazing. I'd definitely stay here again!
Laura, September 2021
___________________________________________________________________________________________


We were blown away by this place, especially the location. Everything was clean, well stocked, easy to get to and find in the house. We did not want to leave. I would stay here again and am already planning how quickly we can get back.
Laureen, September 2021
great place on the beach, pet friendly, recommend it!!!
Seth, April 2021
Great access to beach with a amazing view. Plenty of things to do in the house and good internet when you just want to relax and stream a show.
Jason, August 2021
We had a great time and the property is awesome. If you like walking on long sandy beaches, this is your place. Awesome views adn everything you'd need in a rental for a great vacation Super close to great dining options, and great hikes along the coast.
Todd, August 2021
We had a great stay at "Beach Please" Check in was a breeze. The house smelled clean and fresh and was very welcoming. We loved the view and on high tide the waves were right out our front window. Mist and spray blocked our view but that's the trade off from being so close to the ocean. I opened the little front window while sitting on the couch and enjoyed the breeze, smells and sound of the waves! Hot tub was clean and relaxing in the evenings. Everything was as expected. Pens and paper were the only thing we couldn't find! Other then that no problem! We can handle the little things. Thanks for sharing your little bit of beach heaven with us.

Denise, June 2021
Beautiful views and the hot tub was amazing! We loved the proximity to the beach. Be aware that you do have to climb down boulders to get to the beach. Also the grill is very rusty, we ended up using the stove top instead. Nice overall.

Chelsea, May 2021
We stayed here for 5 nights at the beginning of May and really loved the place. Communication with was great and check-in was super easy. The house was extremely clean, appliances were high end, nicely decorated, and the views were amazing. You are literally on the beach, which is huge and not crowded at all. We had our small dog with us and having a backyard that is fully fenced was great. Also, having a hot tub facing the ocean was amazing! This is a great vacation place and we would definitely stay here again!
Jodene, May 2021
Great property and great view.
Seth, April 2021
Great little place with amazing views of the ocean. Perfect for our family of 4 with a crated puppy. Started and ended each day with a walk on the beach. Perfect.
Eric, April 2021
Exactly what we needed! Listening to the ocean is so refreshing.
Brady, March 2021
Great location off the beach. The place was very clean and stylish. Great amenities. Our pups enjoyed the fenced yard. We enjoyed our stay. Thank you!
Jackie, March 2021
Very clean and relaxing home on the beach! The view and access to the beach are incredible! Well stocked kitchen too!
Kirsten, February 2021
Great space for our family! We truly enjoyed our stay. Thank you!
Audrey, February 2021
Really beautiful location, stylish space and great amenities. Thanks!
Rachael January 2021
Great place for a cozy beach getaway!
Joseph January 2021
Nice cozy house right on the beach. Hot tub was great. Fun free days staring out at the ocean.
Micah, November 2020
Stayed here for 4 nights during the covid time, want a place which is not a crowded but still has good views and we exactly got that. The place is right on the beach, and we could get to beach from backyard (not the easiest way down from the rocks). We had access to the 4-5 mile long beach, at time to all to ourselves. We had our 4 yr old lab and I guess this his best vacation too. Our dog could run unrestricted across the beach almost the whole day (except when it was raining as it get really cold). Also could see seals crossing the beach right from home. Additionally, home has all the tools and kitchen utensils you would need to cook and not needing to go out. Really good grocery store (rays food) near by. We will come back in future.
Naveen November 2020
Beautiful home and very clean. We loved the ocean view from the windows and private access to the beach.
Jen October 2020
Amenities
Dog Friendly
Gas BBQ Grill
Free WiFi
Oceanfront Hot Tub
Spectacular Ocean View
Ocean Front - Sandy Beach
HD Flatscreen TV's
Washer & Dryer
(Fireplace - Electric|Ocean View Patio|Free Cable or Satellite Television|Air Conditioner)

Enjoy beautiful ocean views from just about every window in the house!
The open concept upstairs is sunny and bright.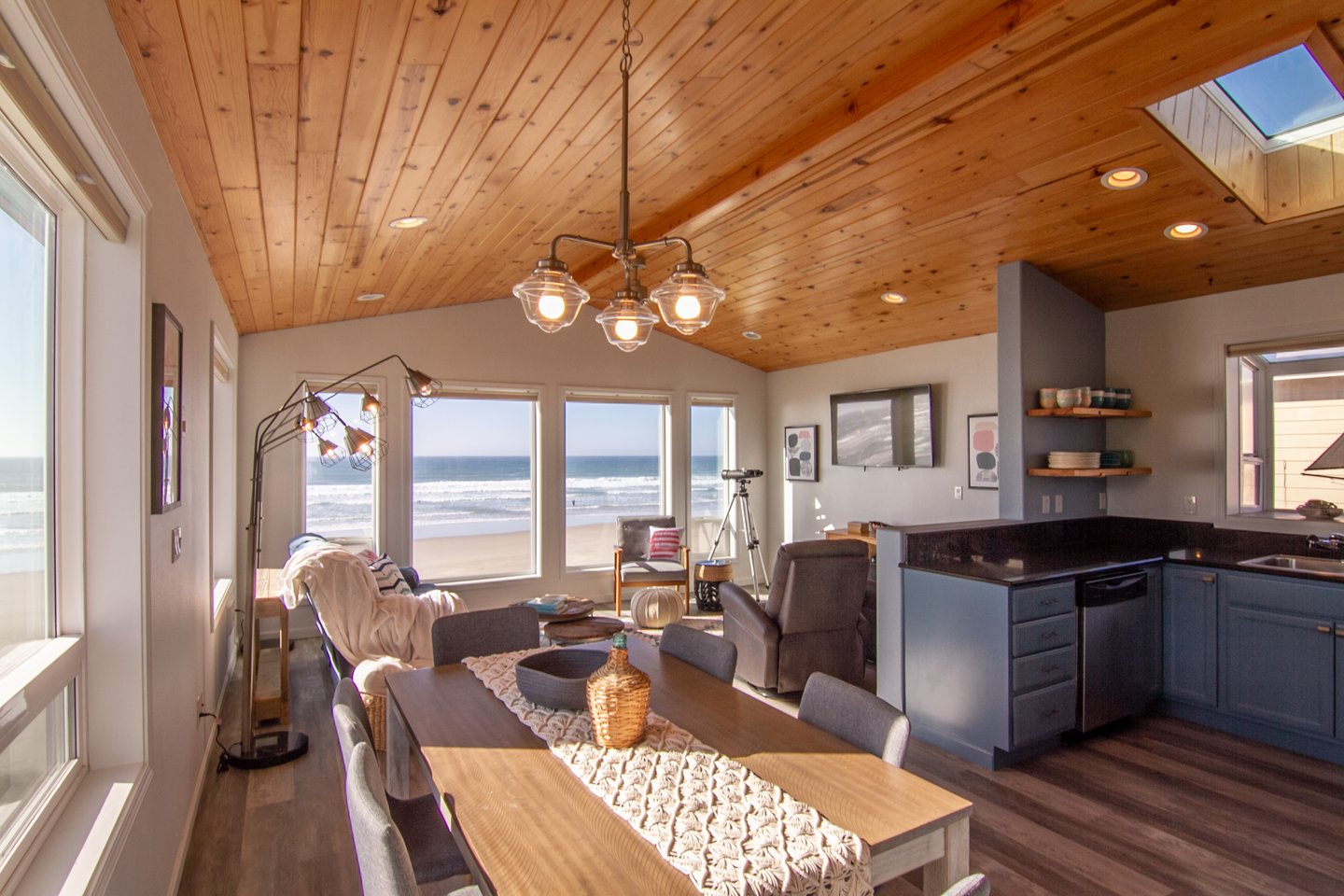 Curl up on the couch and watch the ocean for hours.
Sit back and relax in the sunlight.
Grab a cup of coffee to enjoy before you start your day.
Stainless steel appliances are perfect for the family chef.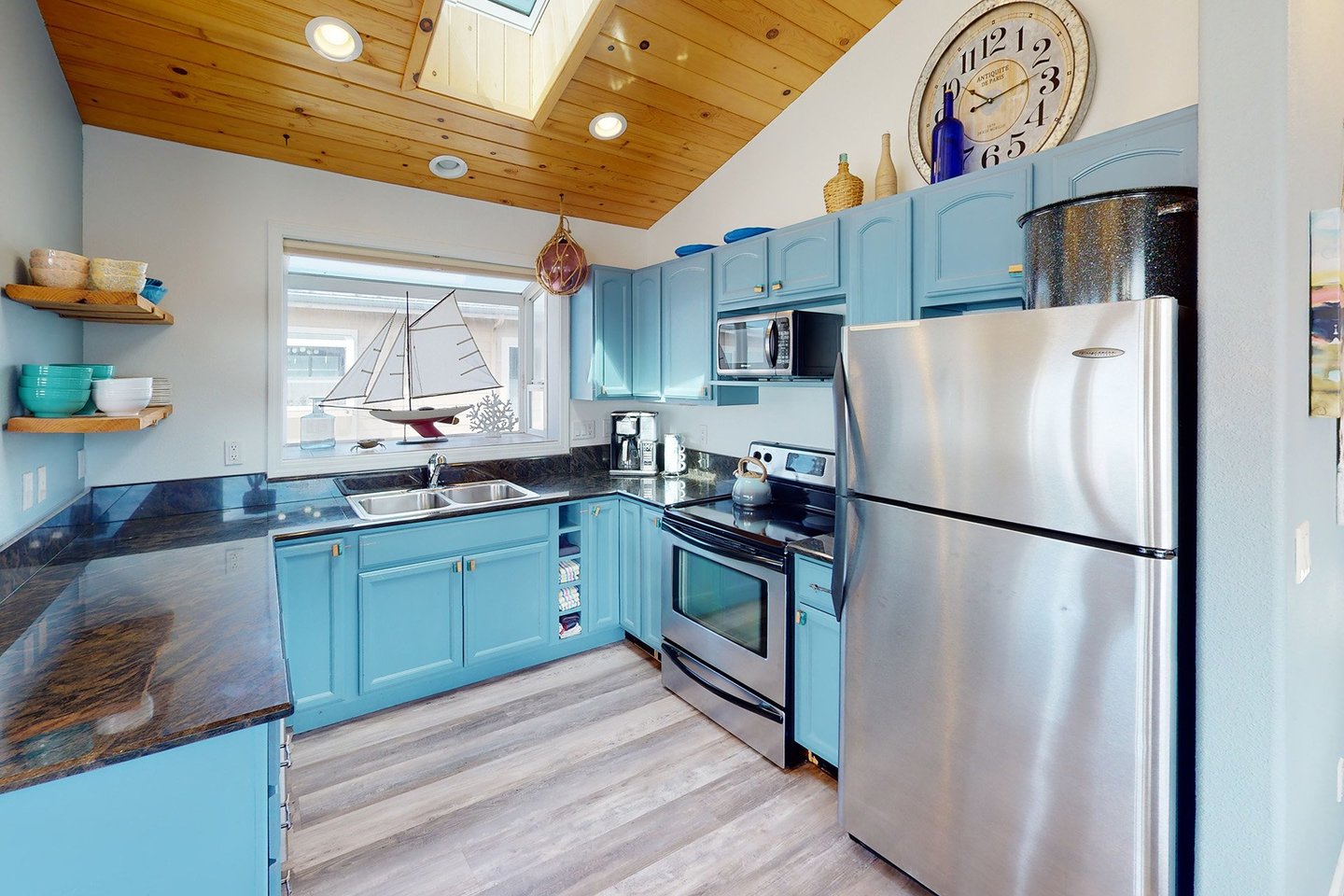 Keep an eye on the ocean during your stay!
Gather at the dining table after a full day exploring the coast.
The king bed upstairs can be split into two twins with prior notice.
The bathroom upstairs right off the bedroom.
Another king bed downstairs can also be split into two twins with prior notice.
Enjoy direct access to the deck right from your bedroom.
You can't beat breakfast in bed while listening to the waves.
How many times can you find 'Beach, Please' in this adorable house?
Stacked washer and dryer for you to use.
Rinse off your sandy feet in the outdoor shower after exploring the shoreline.
Walk for miles on the beach, please!
Relax in the hot tub right on the deck with ocean views!
Floor Plan