Big Wave Lodge
Big Wave Lodge
530 Yachats Ocean Road
Yachats
4 bedrooms
2 baths
Sleeps up to 8
Dog Friendly
$395 - $475/Night
You will experience that true getaway feeling the moment you step into the Big Wave Lodge. Your senses will come alive as you take in the details of this gorgeous home, from the handcrafted front door to the aesthetic tile work. This 4 bedroom, 2 bath home is the perfect retreat for your Oregon coast getaway! Located in one of the best neighborhoods in Yachats, Oregon, the Big Wave Lodge offers you spectacular views of the waves breaking onto the tidepools right out your windows! From whales, sea lions and sea birds to fishing vessels and storm watching, the action is sure to please year round. A short walk down one of the most scenic streets on the central coast will lead you to a set of steps to the sand in Yachats Bay. At high tide, you will walk right past a blow hole and the bay will be filled with water and sea life. At low tide, the bay turns into a wonderful cove-like sandy beach. You are also walking distance to the town of Yachats where you will find fabulous dining, fresh seafood, and wonderful shops to explore.

The grand family room has a 75" flat screen TV and a large, inviting sofa. Grab a book or a pair of binoculars and claim your spot in front of the sunny picture windows! The custom kitchen is well appointed with everything you might need during your visit. Downstairs are 2 bedrooms and a shared full bath. There are another 2 bedrooms upstairs which share a spectacular custom bath-suite. There is a deep, freestanding bathtub with ocean views, double sinks and a most spectacular shower with double shower heads and incredible mosaic tile artwork. You will feel like you stepped in to the most luxurious European spa!

Just a short drive south you will find Cape Perpetua Scenic Area for hiking, whale watching, and the highest viewpoint accessible by car on the Oregon Coast, Heceta Head Lighthouse, and many beach turnouts to be able to explore the coastline.

Sleeps up to 8 - 4 Bedrooms, 2 Kings, 2 Queens, 2 Bath.
Vehicles: Licensed for 5 (Strictly enforced- No street parking allowed)
Winter: 2 night minimum; Standard & Holidays: 3-4 night minimum.
*Each home is individually owned. Amenities and furnishings are subject to change at any time. Please contact our office with any questions.
Big Wave Lodge
Questions?
Rates
| Season | Period | Min. Stay | Nightly Rate |
| --- | --- | --- | --- |
| Error | 09/01/2022 to 09/21/2022 | 0 | $0.00 |
| Fall Shoulder Months 2022 | 09/22/2022 to 10/31/2022 | 30 | $0.00 to $475.00 |
| Winter Months 2022/2023 | 11/01/2022 to 02/28/2023 | 30 | $0.00 |
| Spring Shoulder Months 2023 | 03/01/2023 to 05/31/2023 | 30 | $0.00 |
| Summer Months 2023 | 06/01/2023 to 08/31/2023 | 30 | $0.00 |
| Fall Shoulder Months 2023 | 09/01/2023 to 10/31/2023 | 30 | $0.00 |
| Winter Months 2023/2024 | 11/01/2023 to 02/29/2024 | 30 | $0.00 |
Reviews
Guest Reviews
---
Beautiful views, wonderful location, and plenty of room!
Teresa , July 2022
---
Excellent stay! The home is accurate to the pictures and we had great weather for Oregon coast! Close enough to walk to town and it's just so quaint. Beautiful views.
Kristie , June 2022
---
We had such a wonderful time at this property in Yachats, Oregon (literally right across the street from the ocean and....at low tide...the tidepools)! It was the perfect size for our family of 8 (including teens and children)! It was very clean, it has a large, nice hot tub, a large gas grill to cook on, all of the kitchen utensils, plates, pans etc, to have a great time cooking there, a huge washer and dryer and I LOVED the upstairs bathtub and double shower room! So cool! We would highly recommend the Cape Perpetua Park in the Siuslaw National Forest (only 2 miles South) for some beautiful forest and ocean hiking! AND LeRoy's Blue Whale Restaurant! It was SO good!!! This was our Oregon Dream Vacation, and we would LOVE to come again!
Danielle & Michael , May 2022
Very beautiful house in a beautiful area. Everything we could have hoped for and a great host!
Rick, April 2022
____________________________________________________________________________________________
This house was a perfect getaway for my friend and I! The hot tub on the balcony and the view made everything worth it. The only downside to this house, if you want to consider it as one, was that the service is a little splotchy but it's nice to get away. Definitely on my list of coast houses to stay at again.
Michelle, December 2021
____________________________________________________________________________________________
This was a gorgeous home with beautiful views, right near the beach. Very comfortable and modern. The hot tub was amazing - see the stars while hearing the crashing waves. Also the double-headed shower! Great access to beach and the cute town of Yachats. We're in love!
Christopher, December 2021
_____________________________________________________________________________________________
Beautiful ocean views, very spacious & comfy house. Great kitchen for cooking a& gathering with out family. Relaxing hot tub after scenic hikes. We enjoyed our stay very much! Thank you for allowing pets. Yachats was amazing & locals were all so friendly.
Megan, November 2021
___________________________________________________________________________________________
Beautiful views, large home. Easy walk to the beach or downtown. Huge television The bathrooms are not en suite but there is ample space to host everyone.
Aaron, October 2021
_____________________________________________________________________________________________


Lovely home at the heart of Agate Cove. 10/10 would stay again.
Kris, August 2021
We had an epic time at Big Wave Lodge. The house was beautiful and the location was perfect. Walking distance to downtown Yachats as well as a nice beach and amazing tide pools.
Joshua, July 2021
The home is well stocked, has everything you need for your stay. I will stay here again the next time we plan a trip to Yachats.
Kim, July 2021
The house is beautiful and well stocked. Perfect for a relaxing getaway. The neighborhood and beach are outstanding and so close to town!
Kate, July 2021
The location can't be beat! The home was clean and as advertised. They allowed us to check in early and were great with communication.
David, May 2021
The location is beautiful. The home is roomy with great decor. The hot tub was a big hit with our family. There were minor household repairs and upkeep that need to be done, but overall it was a perfect place for our family.
Kristen, May 2021
My family and I had a wonderful stay. The kitchen is fully stocked and the location is wonderful. The house was clean and sparkling when we arrived and the hot tub ready for us. We had such a great visit. It would be nice to have instructions to run the TV.
Heather, April 2021
Wonderful home! We saw orcas during our stay and made our stay extra special. Pack some meals the town has great restaurants but for lite night dinners and snacks this kitchen is a perfect for cooking meals. We will book this place again soon!
Marta, April 2021
We loved this property to much that we're worried we won't find any more open dates! Beautiful location, property is immaculate, seamless touch free check in. We hope to come back this summer!
Carlos, March 2021
Great hot tub, great view of waves crashing into the basalt rocks at the coastline. Awesome location. Close to a lot of hikes, and simply walking outside puts you right at Agate Cove. Upstairs bath has a great double shower and soaking tub. One feedback - the bottom outside step is loose and many of us almost fell, especially when we first arrived carrying luggage and heavy coolers up. Recommend to get that fixed. Otherwise, stay was great. It might be nice to add some lamps to the main living area, but this is a preference-based suggestion, since I prefer uplighting :).
Cortnie, March 2021
A very nice place to stay.
Jan, March 2021
The entire experience exceeded our expectations. Beautiful home. Would definitely recommend to anyone making the trip to the Oregon coast!
Sarah, March 2021
Great house and location!
Natalie, March 2021
We had a great time watching the storm and walking with the dogs at the beach a lot of down time reading the break was much needed even if we didn't go much change of scenery was much welcomed.
Janet January 2021
The house has a congenial layout for lounging, cooking and eating. Hot tub on the deck is outstanding. 4 bedrooms without a dominant master suite makes it nice for several couples. Kitchen was adequately but sparsely supplied. Close to much beauty. Great day hikes. Highly recommended.
Anita December 2020
The rental process was smooth and the office was very helpful when I communicated with them.
Michelle December 2020
The house is gorgeous, the view is breathtaking and I wish I never had to leave! We had the most amazing time here and will definately visit again!
Tiffany December 2020
Well maintained property.
Vijay December 2020
Just wanted to pass on how very pleased all of us were with our house rental. A very gorgeous property very well maintained. Our view couldn't have been better and we were treated to whale watching from our living room one day. The check in process was so easy and the property manager very easy to work with. Definitely a success!
Theresa. June 2019
Outstanding property. This was my first time renting through Sweet Homes and I was a little unsure about the amount of involvement from them from the get go - They requested names, ages and cars for all travelers. They also do a "face to face" check in process which was new to me. I cannot say enough good things about how smoothly this made the entire process. In addition, the home was phenomenal. The dual rain shower was so cool and that alone made it worth staying there again! I really appreciated the tasteful decor as well and it was stocked with everything you could possibly need - even a kitchen aid which was great for making a cake with my granddaughter. The ocean is literally across the street and you can sit in the hot tub and listen to the waves crashing on the beach. I will absolutely rent through Sweet Homes again and this property is a fave in Yachats.

Maryanne T. January 2019
Perfect

Great house, great location. Clean, comfortable, convenient. Getting to watch the whales breaching just off the shore made it even better. Highly recommend!
Derek B. August 2018
Awesome vacation.
Gorgeous beachfront home! It has everything we
needed. Enough space and room for everyone. Great amenities. We loved staying here.
Judynelle C. July, 2018
Amenities
Dog Friendly
Gas BBQ Grill
Ocean View Deck
Free WiFi
Hot Tub
Spectacular Ocean View
Well Stocked Kitchen
Short Walk to a Sandy Beach
HD Flatscreen TV's
Washer & Dryer
(Ocean View - Rocky Shoreline|Large Grassy Yard for Outdoor Fun|Free Cable or Satellite Television|Sunny & Bright)

Large hot tub with views on the second floor deck.
Sit in the sunny window and enjoy nature and the ocean!
Snuggle up on the sofa for an evening of movies on the 75" TV.
Plenty of room for everyone in this bright and airy living room.
Custom details make this home warm and inviting. The fireplace is non-functioning.
Plenty of room for everyone in this bright and airy living room.
Wonderful views of the crashing waves and the Pacific Ocean.
Seating for everyone to dine in and enjoy the fantastic views.
Kitchen/dining opens up to the patio to make a great indoor/outdoor experience.
Kitchen/dining opens to the great room.
Plenty of space in the kitchen to cook up some family meals!
The kitchen has the amenities to make your stay comfortable.
Plenty of space in the kitchen to cook up some family meals and enjoy the views from the dining room.
The kitchen has the amenities to make your stay comfortable.
King bed in upstairs bedroom with a sitting area to enjoy the views.
Window seating with panoramic views from the upstairs bedroom with the king bed.
Gorgeous tile work in this double shower head walk in shower.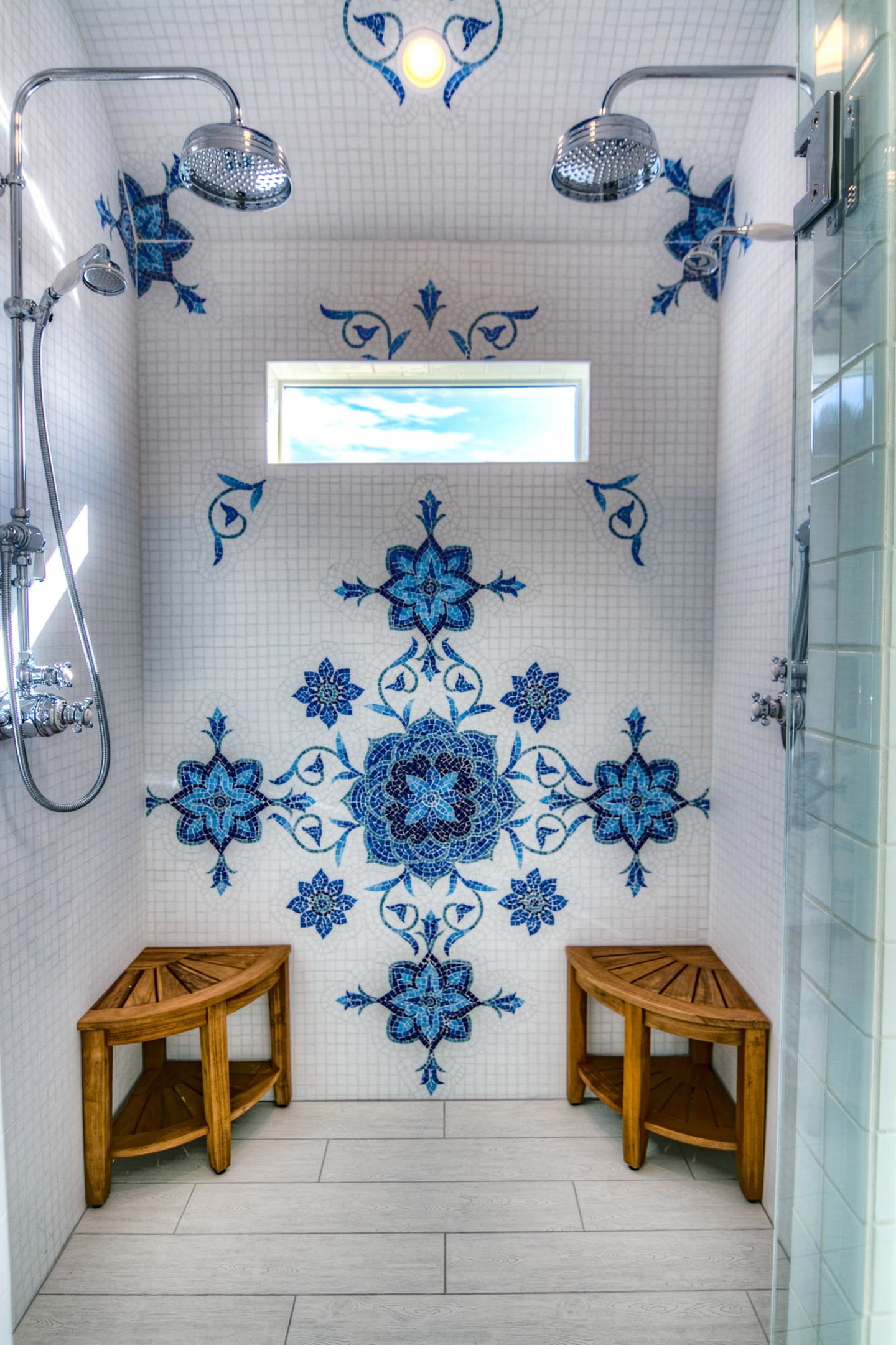 Enjoy this spacious bathroom suite with double vanity and soaking tub.
Enjoy the soaking tub with ocean views!
Upstairs bedroom with a beautiful queen bed.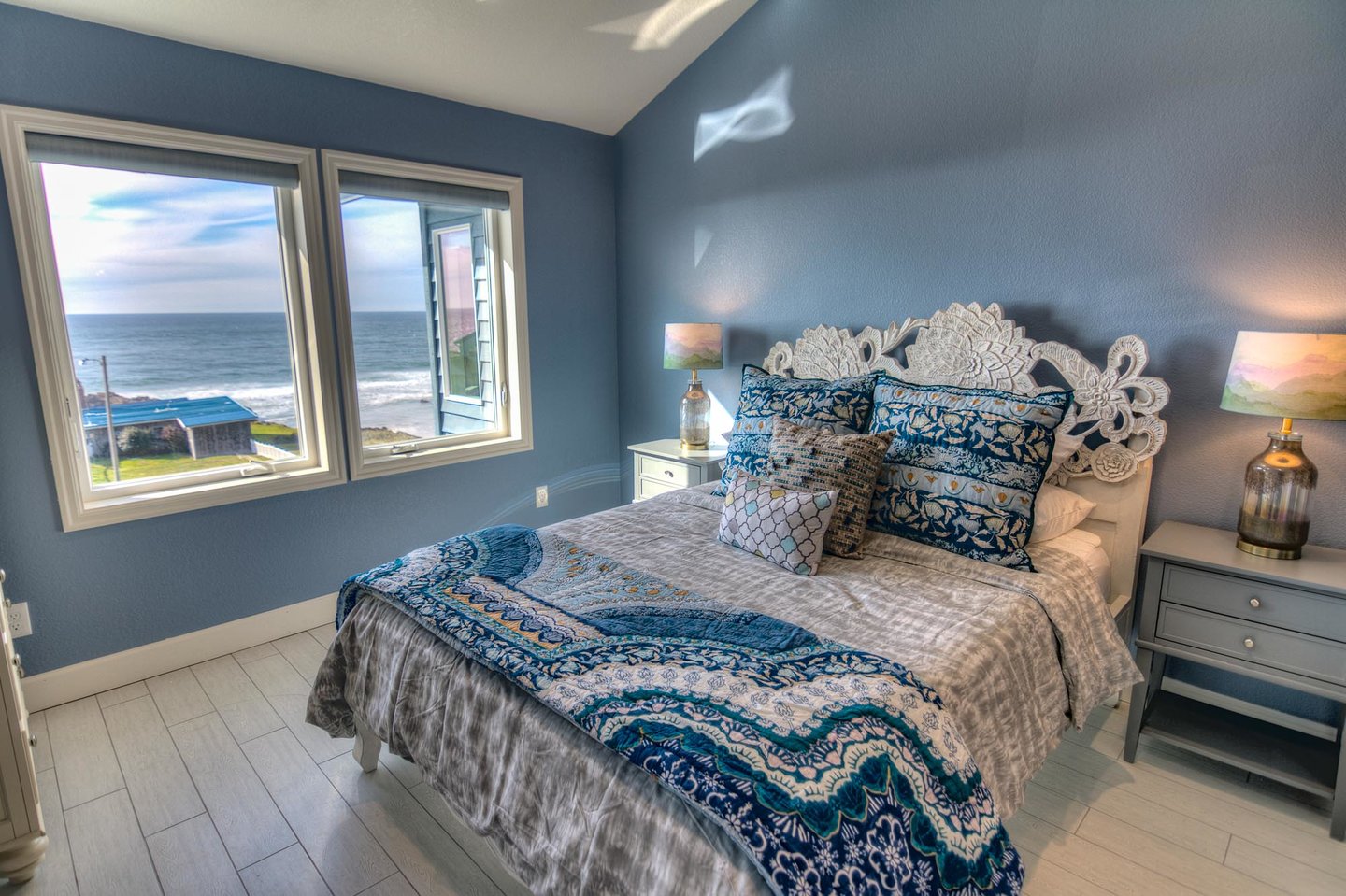 Queen bedroom with access to the deck and hot tub!
Bright and spacious king bedroom on the main floor.
Mainfloor bedroom with beautiful carved king headboard and a quiet window seat to enjoy the view.
Quiet window nook to enjoy a sunny day.
Mainfloor bath
Enjoy outdoor/indoor living under the covered deck off of the dining room.
Floor plan