Heron Song
Heron Song
6857 NW Finisterre Avenue
Yachats
3 bedrooms
3 baths
Sleeps up to 6
Dog Friendly
$150 - $875/Night
The perfect spot on a magnificent stretch of sandy beach is waiting for a relaxing couples' gathering or a family getaway! Halfway between the quaint Oregon beach towns of Yachats and Waldport, this tasteful beachfront home provides the perfect getaway for up to 6 people. Just 18 steps down your private stairway to the beach, Heron Song is located on a quiet dead end street with ample parking and features a lawn area, hot tub, and expansive deck overlooking Tillicum Beach.
The home features a Queen bed and full bath on first floor, a second King suite with an ocean view and full bath upstairs. Cozy up to a wood fire in the living room (or make one on the beach!), whale watch from the comfort of the inside or on the large deck overlooking the ocean and watch the glorious sunset over the Pacific Ocean from your private perch above the beach. In addition to the main house there is a detached second floor master suite with Queen bed, full bath and ocean view! This detached suite has a sun room with a magnificent ocean view, a double futon fold out, full bath with shower, small refrigerator, two burner stove, microwave and toaster oven. If you choose, you never have to leave this romantic suite!
The home has wifi, flat screen TVs, and DVD players. Take a 3.5 mile walk down the beach to explore the charming and artsy town of Yachats, go another few miles south to hike the magnificent Cape Perpetua State Park with tidepools and breathtaking beach and mountain paths to meander. And 3.5 miles north enjoy the beach town of Waldport, rent a boat and rings to go crabbing, or go on up to Newport and enjoy a bowl of hot chowder from The Chowder Bowl. Dogs are welcome on the main floor or the apartment of Heron Song and will love to frolic at the beach! Wash the sand off yourself or your pup in the outdoor heated shower positioned perfectly next to the hot tub!

Sleeps up to 6 - 3 Bedrooms, 1 King & 2 Queens, 1 Queen Sleeper and a Full futon. 3 baths
Vehicles: Licensed for 3 (strictly enforced- No street parking)
Standard: 2 night minimum; Summer & Holidays: 3-4 night minimum.
*Each home is individually owned. Amenities and furnishings are subject to change at any time. Please contact our office with any questions.
Rates
| Season | Period | Min. Stay | Nightly Rate |
| --- | --- | --- | --- |
| September 2023 | 09/05/2023 to 09/30/2023 | 2 | $300.00 to $385.00 |
| October 2023 | 10/01/2023 to 10/05/2023 | 2 | $225.00 to $318.00 |
| Columbus Day Weekend 2023 | 10/06/2023 to 10/09/2023 | 3 | $325.00 |
| October 2023 | 10/10/2023 to 10/11/2023 | 2 | $225.00 to $318.00 |
| Annular Eclipse 2023 | 10/12/2023 to 10/15/2023 | 3 | $350.00 |
| October 2023 | 10/16/2023 to 10/19/2023 | 2 | $225.00 to $318.00 |
| Yachats Mushroom Festival 2023 | 10/20/2023 to 10/22/2023 | 2 | $280.00 |
| October 2023 | 10/23/2023 to 10/31/2023 | 2 | $225.00 to $318.00 |
| November 2023 | 11/01/2023 to 11/21/2023 | 2 | $175.00 to $250.00 |
| Thanksgiving Weekend 2023 | 11/22/2023 to 11/26/2023 | 4 | $650.00 |
| November 2023 | 11/27/2023 to 11/30/2023 | 2 | $175.00 to $250.00 |
| December 2023 | 12/01/2023 to 12/14/2023 | 2 | $245.00 to $300.00 |
| Holiday I 2023 | 12/15/2023 to 12/25/2023 | 4 | $450.00 |
| Holiday II 2023 | 12/26/2023 to 01/01/2024 | 4 | $395.00 |
| January 2024 | 01/02/2024 to 01/10/2024 | 2 | $150.00 to $225.00 |
| MLK Holiday 2024 | 01/11/2024 to 01/15/2024 | 3 | $250.00 |
| January 2024 | 01/16/2024 to 01/31/2024 | 2 | $150.00 to $225.00 |
| February 2024 | 02/01/2024 to 02/14/2024 | 2 | $175.00 to $225.00 |
| Presidents Day 2024 | 02/15/2024 to 02/19/2024 | 3 | $250.00 |
| February 2024 | 02/20/2024 to 02/21/2024 | 2 | $175.00 to $225.00 |
| Seafood & Wine Festival 2024 | 02/22/2024 to 02/25/2024 | 3 | $300.00 |
| February 2024 | 02/26/2024 to 02/29/2024 | 2 | $175.00 to $225.00 |
| March 2024 | 03/01/2024 to 03/21/2024 | 2 | $195.00 to $250.00 |
| Spring Break 2024 | 03/22/2024 to 04/07/2024 | 3 | $375.00 to $437.00 |
| April 2024 | 04/08/2024 to 04/30/2024 | 2 | $234.00 to $300.00 |
| May 2024 | 05/01/2024 to 05/23/2024 | 2 | $195.00 to $250.00 |
| Memorial Day Weekend 2024 | 05/24/2024 to 05/27/2024 | 3 | $395.00 |
| May 2024 | 05/28/2024 to 05/31/2024 | 2 | $195.00 to $250.00 |
| June 2024 | 06/01/2024 to 06/30/2024 | 3 | $343.00 to $437.00 |
| July 2024 | 07/01/2024 to 07/01/2024 | 3 | $525.00 to $735.00 |
| July 4th Holiday | 07/02/2024 to 07/07/2024 | 4 | $875.00 |
| July 2024 | 07/08/2024 to 07/31/2024 | 3 | $525.00 to $735.00 |
| August 2024 | 08/01/2024 to 08/29/2024 | 3 | $573.00 to $762.00 |
| Labor Day Weekend 2024 | 08/30/2024 to 09/30/2024 | 3 | $722.00 |
| October 2024 | 10/01/2024 to 10/10/2024 | 2 | $303.00 to $398.00 |
| Columbus Day Weekend 2024 | 10/11/2024 to 10/14/2024 | 3 | $438.00 |
| October 2024 | 10/15/2024 to 10/17/2024 | 2 | $303.00 to $398.00 |
| Yachats Mushroom Festival 2024 | 10/18/2024 to 10/20/2024 | 2 | $438.00 |
| October 2024 | 10/21/2024 to 10/31/2024 | 2 | $303.00 to $398.00 |
| November 2024 | 11/01/2024 to 11/26/2024 | 2 | $218.00 to $312.00 |
| Thanksgiving Weekend 2024 | 11/27/2024 to 11/30/2024 | 4 | $812.00 |
| December 2024 | 12/01/2024 to 12/19/2024 | 2 | $245.00 to $300.00 |
| Holiday I 2024 | 12/20/2024 to 12/26/2024 | 4 | $562.00 |
| Holiday II 2024 | 12/27/2024 to 01/02/2025 | 4 | $493.00 |
Reviews
Guest Reviews
---
The house is perfect, as my wife said, of all the vacation houses we have stayed in, every summer since 1998, this one was the closest to the ocean! The area between Newport and Yachats is an incredible part of the Oregon coast and Heron song adds to it!
Gary , September 2023
---
The view and ease of getting to the beach is amazing and just what we needed. Lovely location close to town but the beach is very private. The separate apartment above the garage was great - us 2 couples felt like we had separate and private spaces to relax and read but came together for meals, games, etc. Looking forward to coming back some day!
Amy , April 2023
---
Stayed here over spring break with the kids. Waking up and walking down the beach was so nice. The hot tub was great! The road to the house is very bumpy so just prepare for that when you turn off the highway in a hurry. If I ever get to back to the coast again we would definitely try and get this place again. 10/10 all the stars!
Katie , March 2023
---
The house was lovely, and the view spectacular. Our family had lovely time.
Reba , July 2022
---
We enjoyed everything about our stay, from the beach walks, to local shopping and dining. Luna's is a must for the Halibut fish and chips. Great time, thanks for having our family.
Jamey , July 2022
We really enjoyed our stay. Location is extraordinary, fabulous and very scenic to spend your time at this place. Sweet Homes had taken care of everything and we loved our experience to spend our weekend there. Will surely consider sweet homes for our future weekend trips.

Shreyash, April 2022
This house was perfect for our long weekend with another couple. The location is unbeatable--just go out the door and you're on the beach. Great views from the living room, kitchen, and upstairs bedroom. We didn't even use the separate third bedroom, but it also looked really nice, with its own kitchen and sitting room. It's about a 5-minute drive to Yachats and 10-15 from Waldport, so easy access to restaurants and shops. Highly recommended and we will be back.

Donovan, March 2022
Great property and beach access. Well stocked kitchen and bathrooms. Fantastic view. Would rent this house again in a heartbeat!

Gail, March 2022
Loved the ocean sounds at night. Can't beat the unobstructed view. The third bedroom is in a separate building. It's kinda like a sweet with a sitting area, kitchenette and tv area. Very nice. The hot tub was wonderful and the outside shower worked well to get the sand off our dog.

Mark, February 2022
Great place to visit with outstanding views! Had a relaxed feeling about it. You could just kick off your shoes and no nothing! No reason to leave unless you want to eat out!!

Betty, January 2022
Nice beach home with good ocean views and access.

Dawn, November 2021
Lovely, comfortable place with exceptional view. Fenced yard wonderful for our dogs! Will be back!

Julli, September 2021
Great location, great communication, smaller than photos lead on.

Nick, May 2021
Place had a stunning view and great accommodations for all the beach feels. Family really enjoyed the space.
Jordan, April 2021
This place is truly amazing. The view is breathtaking. I just wished the price would change if you did not use the upstairs. We only used the main house which had everything we needed.
Kim, March 2021
Excellent location to watch the stormy ocean. Great for two families, lots of beds, kitchen amenities.
Dragos, February 2021
Love this house
We had a wonderful time with the grand kids. Right on the beach, fire every night on the beach. Hot tub was great and the upstairs apartment was really nice. Cable didn't work in apartment, but watched movies and was fine. I would love to go there again.
Mark B. June 2018
If you could stay on the very beautiful edge of the Pacific Ocean......this is the place...
This wonderful property gives you the feeling of the beach cabin, with it's warm knotty pine walls, while giving you every amenity of comfort. An entire wall of gorgeous ocean view, with an outside deck that spans the full front of the house. The fireplace is a focal point, crackling with your wood fire. The sand is a mere flight of stairs away. The upstairs master suite has a commanding view, and there is a separate suite above the garage. What more could you want? A game room? A hot tub? Yeah!! It's there. All I can say is....Wow!!
<
Diane S. May 22nd, 2017
Comfortable beach house with great views on the beach
This house is right on the beach with an all-window view across the front of the house. The three bedrooms, including the guest house, are all comfortable, and 3 bathrooms accommodates everyone. Many condiments and all paper supplies are present, and the washer and dryer worked well.
Minnesota
Wished we had booked more days
The six of us (three couples) were so happy here and were so sad when we had to leave after our stay. The photos are just like the property, but no photo can capture the feeling of waking up to the Pacific Ocean. In mid-August, the water was too cold for swimming but the fog and mist make for a remarkable landscape. We also enjoyed the opportunity to have a fire on the beach. We would love to return to Heron Song when we next come to Oregon but we'll make sure we book a whole week next time.
Toronto, Canada
Doesn't get any better than this!
Glorious sunshine helped -- but our stay at this vacation rental would have been super even if during a storm. The ocean was always in sight -- whether fixing dinner or relaxing on the deck or in the hot tub. We opened the window at night and slept to the wonderful sound of the surf. In addition to enjoying long walks on the beach, we loved nearby tide pools and were so happy to spot whales. The house is so bright and light and comfortable that we felt very much at home. We've rented many vacation homes over the years and this one has an exceptionally well-stocked kitchen. The bed was comfortable and the furniture cozy. We shall return!!!
Bend, OR
We stayed at Heron Song over Thanksgiving. What a beautiful setting. The house is all updated. It is so charming. The fireplace was so cozy. The master suite is perfect! Love the skylight over the shower! Kitchen was very well stocked with whatever you need. It was great weather on Thanksgiving Day. We walked the beach for miles. This was heaven on earth. Couldn't have asked for a better vacation!
Jodi; OR
Perfect retreat on the coast
We absolutely loved our time at this house! It has everything that one could need for a great getaway (including a stocked kitchen, beach toys, games and books, wood for beach fires, hot tub and more). It is in a quiet spot, just a few miles from Yachats. We had the beach to ourselves and had a great time -- whether it was flying kites and building sandcastles, or snuggled inside in a comfortable chair with a cup of tea and a book. The house is within close proximity to all kinds of attractions -- shopping, boat excursions and lighthouses in Newport; hiking and tide pools around Cape Perperua, etc. We would go back to this wonderful house in a heartbeat!!!
Casper, WY
Best vacation spot!
We were thrilled when pulling into the vacation home and seeing how beautiful the view was and how amazing the home is. We loved every minute of our stay. Everything was clean and we had all necessities taken care of. Clean beautiful beach and quiet. I would highly recommend a stay here. I look forward to the day we can go back.
UT
Fabulous coast getaway
My husband and I stayed in the smaller property in the rear. It is even lovelier than the photos suggest, including a very modern bathroom with a windows looking out on the ocean (but not a privacy problem). You could also see the ocean a little while standing near the bed. While not a view per se, it did reinforce the wonderful beach feel. The main view is from the sun porch, as shown, and we spent a lot of time there. We went outside to see the sunset, since you didn't have the best angle from the sun porch for that.
The kitchen was very well stocked, the bed was comfortable, and the location was convenient. The key system is excellent, so you don't have to coordinate an arrival time, which is a drawback on many private rentals. Pat was excellent as host.
I scoured all the listings from Florence to north of Yachats. This property stood out for location, decor and value. Highly recommended!


Arlington, VA
More than lived up to the great reviews!
This vacation home had all we could ask for. The kitchen and bathrooms seemed to have been recently updated, which was wonderful, but the place still maintained a cozy atmosphere with lots of coastal charm. The views both upstairs and downstairs were incomparable, and as much as we enjoyed sightseeing and browsing the quaint shops and nearby towns, we always looked forward to returning to a welcoming environment in the evening. Going to sleep and waking up to the sound of the surf was beyond relaxing and the bed in the master bedroom was the most comfortable I've ever had the pleasure of experiencing on vacation!
Connie from New Lenox, IL
Amenities
Dog Friendly
Gas BBQ Grill
Private Beach Access
Ocean View Deck
Free WiFi
Game Room
Hot Tub
Spectacular Ocean View
Ocean Front Views from Two Floors
Well Stocked Kitchen
Ocean Front - Sandy Beach
HD Flatscreen TV's
Washer & Dryer
Wood Burning Fireplace
(Easy Beach Access - Nice Stairs|Large Grassy Yard for Outdoor Fun|Outdoor Shower|Floor to Ceiling Windows|Primary Bedroom Suite)

The ocean front deck and a wall of windows make this the perfect spot to vacation!
The club chairs are a great place to relax and whale watch.
There is plenty of seating in this living room.
Conversations and lounging are made for this spot!
The woodburning fireplace and ocean views make this space a wonderful spot!
Enjoy a warm fire on stormy winter days.
This home has an open concept that lets in plenty of light and big ocean views!
Feel connected to the action while cooking up a great dinner!
Sunny and open kitchen.
Well equipped kitchen is a great place to cook memorable meals.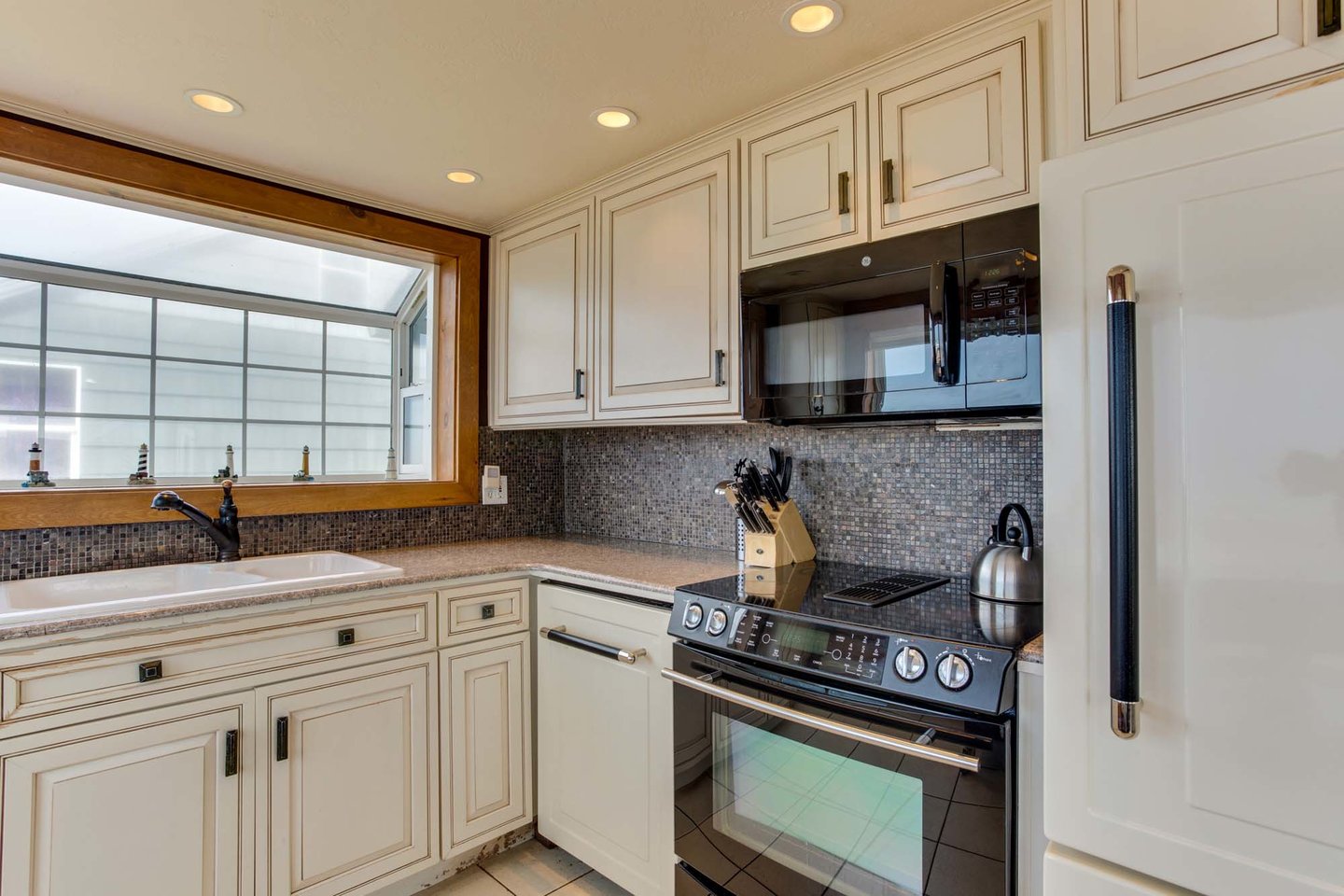 Ocean views from the sunny kitchen.
The roomy dining table is perfect for family meals or putting together puzzles.
Relax in the master bedroom with ocean views and comfy chair.
Sit and relax and do nothing but stare at the ocean.
The primary bedroom upstairs has a king bed and wonderful ocean views!
Primary bathroom ensuite makes this a private retreat.
Downstairs bedroom with queen bed is warm and cozy.
Hallway bath downstairs.
Games and books await you!
Welcome to Heron Song- entry in to the main house.
Wonderful ocean front cottage with large yard!
Enter in to the side yard and enjoy Heron Song!
Large deck with bench seating is a great place to gather.
Sit out and enjoy a picnic while watching for whales!
Detached over the garage apartment is great for added privacy.
Sunny and bright sitting room off of the apartment is great for relaxing and watching the waves.
Sitting area in the apartment with futon for extra sleeping space.
Apartment kitchen is great for morning coffee or a late night snack!
Cozy queen bed is tucked into the apartment.
Apartment bath with shower.
Relax in the hot tub after spending the day beachcombing.
Large yard adjoins the home.
Private access to the beach from the front yard.
The beautiful Pacific Ocean!
Miles of sandy beach await!
The garage has ping pong and foosball to enjoy.
Grill your favorite catch of the day!
Floor plan
Floor Plan for Apartment