Miss Olena
Miss Olena
12655 Raspberry
Seal Rock
4 bedrooms
2.5 baths
Sleeps up to 10
Dog Friendly
$225 - $1312/Night
Get the full Oregon coast experience at the Miss Olena! This stunning ocean view home in Seal Rock sleeps up to 10 with 4 bedrooms and 2.5 baths, plus some special features for your furry family member. At the end of a long day, relax in the hot tub surrounded by trees or enjoy the sunset over the ocean from the deck.

The great room upstairs has amazing views for whale watching. The master bedroom with an en suite invites you to relax in a king-size bed.. Three of the four bedrooms have direct access to ocean-view decks and every room has the relaxing sounds of crashing waves. This home is perfect for the whole family to gather in. Cook and enjoy dinner together with unbeatable views and after, cozy up by the fire or head to the game room for some friendly competition.
If you're traveling with a dog, they will love the large mudroom with a doggy door to an enclosed, weather protected dog run. If they get a little too sandy at the shore and need a bath, there's a dog wash station in the garage. They'll love the pampering and you'll love that they're nice and clean!

Whether you want to relax or explore, the Miss Olena is the perfect home for you and your friends and family. Stay inside and enjoy free WiFi, premium cable, HD TVs, Smart BluRay and Roku players. You don't have to go far to dip your toes into the ocean, just head right out the front door and to the easily accessible and marked trail right down to the coast. This property is also conveniently located near Brian Booth State Park. Bring your kayaks and explore Beaver Creek or take a walk on the miles of trails and beaches. You can even give agate hunting a try! For more memory-making, take a short drive to Newport to visit the Oregon Coast Aquarium, walk along a working bayfront and enjoy fresh seafood already cooked to perfection for you or bought right off of a boat. While in Newport, hop over to historic Nye Beach for additional shopping and restaurant enjoyment!

Sleeps up to 10 - 4 Bedrooms - 2 King Bed, 2 Queen Beds, 1 Queen Sleeper Sofa, and 2.5 baths.
Vehicles: Licensed for 4 (strictly enforced)
Standard: 3 night minimum; Summer & Holidays: 3-4 night minimum.
*Each home is individually owned. Amenities and furnishings are subject to change at any time. Please contact our office with any questions.


Rates
| Season | Period | Min. Stay | Nightly Rate |
| --- | --- | --- | --- |
| September 2022 | 09/01/2022 to 09/30/2022 | 3 | $425.00 to $625.00 |
| Labor Day Weekend 2022 | 09/02/2022 to 09/05/2022 | 3 | $495.00 to $575.00 |
| October 2022 | 10/01/2022 to 10/31/2022 | 2 | $325.00 to $375.00 |
| Columbus Day Weekend 2022 | 10/07/2022 to 10/09/2022 | 3 | $375.00 to $395.00 |
| Yachats Mushroom Festival 2022 | 10/14/2022 to 10/17/2022 | 3 | $325.00 to $395.00 |
| November 2022 | 11/01/2022 to 11/30/2022 | 3 | $225.00 to $350.00 |
| Thanksgiving Weekend 2022 | 11/23/2022 to 11/27/2022 | 4 | $875.00 |
| December 2022 | 12/01/2022 to 12/15/2022 | 2 | $318.00 to $422.00 |
| Holiday I 2022 | 12/16/2022 to 12/26/2022 | 4 | $747.00 |
| Holiday II 2022 | 12/27/2022 to 01/02/2023 | 4 | $682.00 |
| January 2023 | 01/03/2023 to 01/31/2023 | 3 | $250.00 to $300.00 |
| MLK Holiday 2023 | 01/13/2023 to 01/15/2023 | 3 | $325.00 |
| February 2023 | 02/01/2023 to 02/28/2023 | 3 | $250.00 to $300.00 |
| Presidents Day 2023 | 02/17/2023 to 02/19/2023 | 3 | $375.00 |
| Seafood & Wine Festival 2023 | 02/22/2023 to 02/26/2023 | 3 | $450.00 |
| March 2023 | 03/01/2023 to 03/16/2023 | 3 | $275.00 to $330.00 |
| Spring Break 2023 | 03/17/2023 to 04/10/2023 | 4 | $437.00 to $500.00 |
| April 2023 | 04/11/2023 to 04/30/2023 | 3 | $360.00 to $480.00 |
| May 2023 | 05/01/2023 to 05/31/2023 | 3 | $300.00 to $360.00 |
| Memorial Day Weekend 2023 | 05/25/2023 to 05/28/2023 | 3 | $540.00 |
| June 2023 | 06/01/2023 to 06/29/2023 | 3 | $437.00 to $531.00 |
| 4th July Weekend | 06/30/2023 to 07/05/2023 | 4 | $975.00 |
| July 2023 | 07/06/2023 to 07/31/2023 | 3 | $742.00 to $862.00 |
| August 2023 | 08/01/2023 to 08/31/2023 | 3 | $825.00 to $937.00 |
| Labor Day Weekend 2023 | 09/01/2023 to 09/04/2023 | 3 | $1,072.00 |
| September 2023 | 09/05/2023 to 09/30/2023 | 3 | $637.00 to $817.00 |
| October 2023 | 10/01/2023 to 10/31/2023 | 3 | $438.00 to $506.00 |
| Columbus Day Weekend 2023 | 10/06/2023 to 10/09/2023 | 3 | $533.00 |
| Yachats Mushroom Festival/Annular Eclipse 2023 | 10/12/2023 to 10/16/2023 | 3 | $550.00 |
| November 2023 | 11/01/2023 to 11/30/2023 | 3 | $337.00 to $525.00 |
| Thanksgiving Weekend 2023 | 11/22/2023 to 11/26/2023 | 4 | $1,312.00 |
Reviews
Guest Reviews
---
A gorgeous property that was well maintained and perfectly clean and tidy. We loved staying here and can't wait to come back.
Margaret , August 2022
---
We loved this home rental. It was perfect for our family with lots of gathering space for the family, a well- stocked kitchen, and fun ping-pong, pool table, and fuse ball in the garage. Very clean. Excellent communication.
Andrea , June 2022
---
This was one of my all-time favorite properties. The game room was spectacular for rainy days, and the covered hot tub made it useable and enjoyable anytime. Living space in this home is large and open, with enough deck space for all as a group. Kitchen is well stocked. View from this property is unencumbered and ocean sounds and beats lull you to sleep. Will definitely enjoy this property again.
Celia , June 2022
---
4 couples getaway. Had a perfect time! The house was exactly what it was listed as. Great fun, great memories!!
Dana , May 2022
The house is even better in person! Easy access to the beach across the private street or head to the Ona Park down the road. Everything you would want in a beach house and super easy access to Newport.

Ashley, April 2022
It was just the two of us for a romantic birthday getaway so when we finished exploring the downstairs and finally went up, we were out loud exclaiming, "oh wow!" Everywhere we looked. There was really no need to even go down stairs except to go out for the day, to the beach which is accessible right across the lane, or to take the dogs to the backyard. We mostly ordered food and brought it home to heat and serve, but Yachats was great for birthday breakfast, and how can one pass up clam chowder and fish tacos in Newport! Daily walks on the beach were outstanding with glorious sunsets and park's nearby. I do wish the backyard were fully fenced...we had to take the dogs leashed every time in fear they would lose their minds chasing a bunny, lol. The stairs were much like a ladder with a handrail, so make sure you are fit enough to ascend and descend those. Overall, this home is an 11 out of 10. Just beautiful!

Nicole, January 2022
We had 8 adults stay very comfortably. Loved the house, especially the well equipped kitchen! Enjoyed the view, the beach, & the hot tub.

Susan B. 2019
This house is amazing! The views are extraordinary! The trail to the beach is rough but we made it and the fact that we were able to bring along our fur babies was beyond wonderful! We enjoyed our stay immensely and will definitely be coming back on a future stay! Thank you so much!!

Ronda 2019
Great house and amazing service.

Adam 2019
Very pretty place right by the ocean! Not too far from town too. The cell and WiFi service was kind of spotty, but we were warned of that. Would gladly stay here again, as it housed all 13 of our group! We enjoyed our stay!

Mariah 2019
Thank you for the wonderful time. Nice house with great location. :)

Karl 2019
Birthday trip- we had a great time! The beach was perfect!
PS. The kids used the futon!
Heidi 2019
What a great place to enjoy some time at spring break! We had a lovely time, great weather and company! We'll hopefully be back!
Carina, March 2019
What an AMAZING way to spend spring break.
Thank you so very much for sharing this home with us it was incredible. We brought 8 kids and 4 adults and your house and everything in it kept us entertained and very happy. It had plenty of space and it was so equipped we didn't have a need for anything. From kids plates and cups to cooking and baking needs. Even plenty of pillows and blankets you guys thought of everything. We can not thank you enough for these memories.
Chere, March 2019
This is the most beautiful Air B&B that I've ever stayed in. Every bit of decor was extremely well thought out, making the space incredibly stylish and cozy. We loved the hot tub and how close we were to the beautiful coast line. The beds were insanely comfortable and there were plenty of extra linens for the pullout couches. Something we hadn't anticipated that was a great treat was the pancake griddle hiding in the pantry. Blueberry pancakes for breakfast! There was so much to do inside the home, we almost didn't leave to walk on the beach the first day. We will DEFINITELY be staying here again :)

Taylor J. December 2018
Beautiful house!
We all had a wonderful time, what a view. Short distance to the sea and beach. Well stocked kitchen. Thank you for sharing

Pearlene 2018
Great home, plenty of room for a large group!

We will stay here again. It was the perfect home for our large family. Thanks so much!
Jody 2018
Beautiful home with plenty of space for a large group.

This home was the perfect location for our trip. We had 3 families with 9 kids total and there was more than enough room for them to run around and stay busy. The adults loved the openness and cleanliness of the home!
Ashley. June 2018
Family trip was a success...
We had a group of 12 of us and it was a great house for that many people. Views are stunning, beach access is a short walk and kids enjoyed the games in the garage. Beds were comfortable and there was a lot of extra bedding and towels. Only complaint would be that the kitchen did not have any towels to use for dishes and drying hands. If you need a house for a dog this is it.
Has a great enclosed dog area outside and a dog wash in the garage. Would stay here again when we had a large group.
Megan S. Sept. 2017
Was a fabulous place - beds were comfortable - kitchen was well supplied - nice little trail for beach access - would make a repeat stay - there were 9 of us who stayed here and everyone was well pleased with the accommodation. (add a few more towel racks somewhere)
Steve T. Sept. 2017
Very convenient to Newport or Waldport, and not bad getting to Lincoln City or Florence. Beautiful view across an empty lot to the Ocean, path to beach right out the front door. Nice tubs and showers, well built, newly seeded yard for the dogs to use! Looks like a hot tub is being built outside next. Enjoyed staying here.

John 2017
We absolutely loved this house. It is not often that a place is even better than the pictures! The game room in the garage is perfect for families. The walk to the beach was easy to do with two six-year-olds. We had a great time and look forward to coming back again.

Karen T. August 2017
Miss Oleana is a beautiful home. The music was playing when we arrived and was so welcoming. The kitchen has everything you need to cook meals for a crowd and, wow! The view from the kitchen and living room are just breathtaking. We spent most of our time on the deck whale watching or taking the short hike down to the beach. There are 3 good sized bedrooms downstairs and the master upstairs which was plenty of space for our family. They even had plenty of extra pillows, blankets and towels. Overall, I would definitely stay here again and kind of wish it was my house.
Leslie F. July 2017
Amenities
Dog Friendly
Gas BBQ Grill
Shared Private Beach Access
Ocean View Deck
Free WiFi
Gas Fireplace
Game Room
Hot Tub
Spectacular Ocean View
Well Stocked Kitchen
Short Walk to a Sandy Beach
HD Flatscreen TV's
Washer & Dryer
(Fenced Dog Run|Master Suite|Whirlpool Tub|Sunny & Bright|Single serve/pod coffee maker)

Ocean views from the covered hot tub.
The wall of windows captures the view.
Beautiful ocean views from the great room.
Enjoy the gas fireplace on a cool coastal evening.
A second sitting area to enjoy the view or read a good book.
The open floor plan upstairs provides plenty of room for all.
Every appliance you need, with ample custom cabinetry, and so much counter space.
Granite counter tops and plenty of prep space.
Extra seating at the counter to watch the cook!
relax in the Master bedroom with ocean views.
Enjoy the master bedroom with a king bed.
With another place to snuggle or read in this amazing Master suite.
The large master ensuite is special.
Large tub to soak in and relax.
Separate shower in the master bath.
Welcome to the Miss Olena.
Relax in a queen bedroom with ocean views.
Bright and cozy bedroom with ocean views.
Outside access to the lower deck!
Downstairs king bedroom.
Yet another fantastic King with private deck access and HDTV.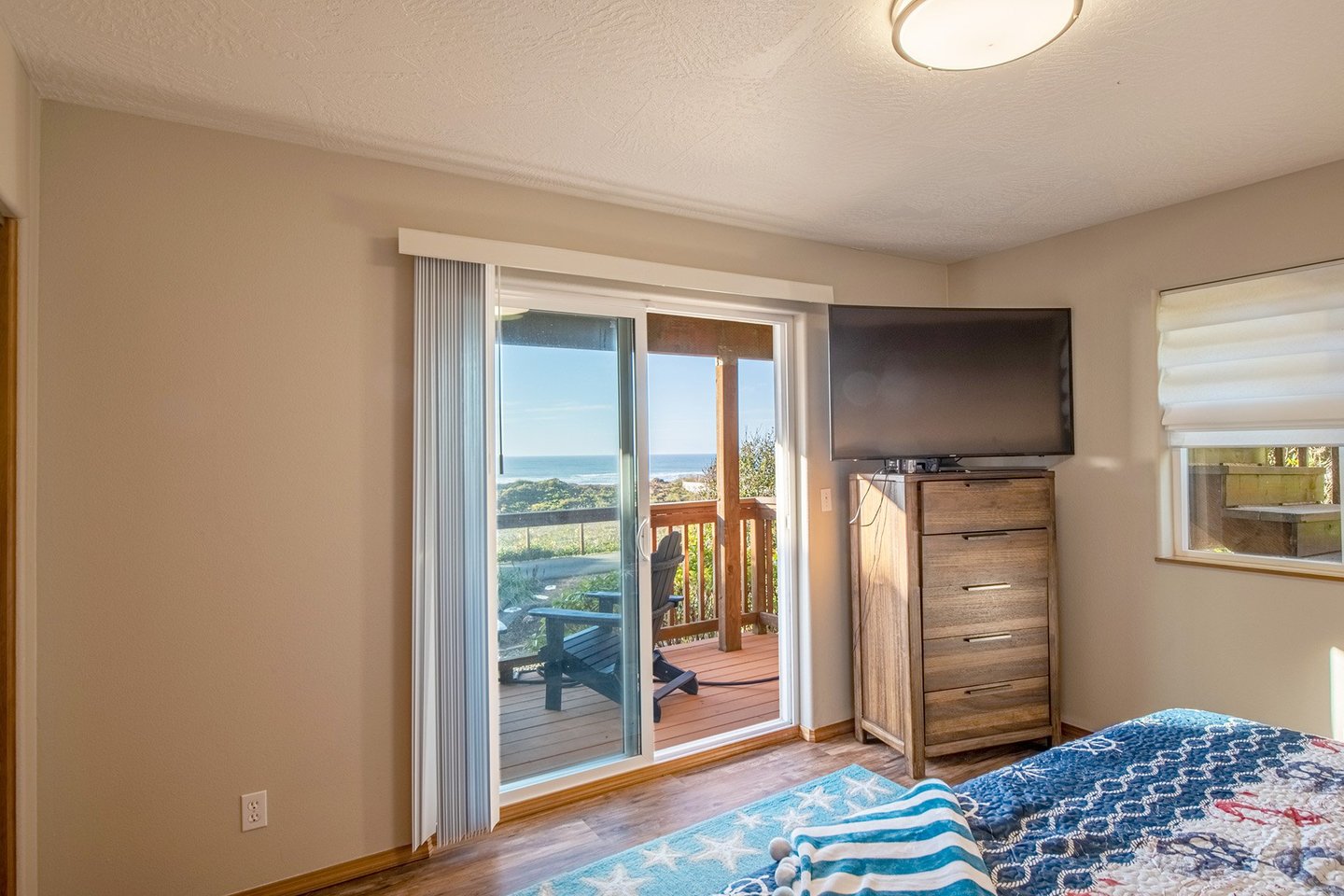 A very cozy welcoming queen bedroom.
A serene Queen, covered in crisp designer comfort.
Downstairs Bathroom to share.
The finest in laundry appliances for your use.
Covered hot tub
Your furry friends will enjoy their own spot to rinse the beach off, and so will you.
Give your dog their own special room with the best natural lighting.
Cozy up in this beautiful home.
Incredible views in the comfort of shielded wrap-around decks.
Deck Views
A well defined path between the trees leads to a staircase to the shore.
Endless ocean views
Welcome to Miss Olena!
One of the finest beaches in the area awaits your group or family
Spectacular Seal Rock, crashing surf, amazing rock formations, and azure seas
At low tide you can find tide pools to explore.
Perched up on a small bluff, there are miles of sandy beach to explore.
Don't miss out on sunsets like this!
Enjoy low tide at the end of your beach access path.
Head out to find tidepools and explore the rocks exposed at low tide.
You can't beat Oregon coast sunsets like these.
Forest and sea- the perfect spot to stay!
Floor plan