Oregon Waves
Oregon Waves
8934 SW Marine View Street
Newport
3 bedrooms
2.5 baths
Sleeps up to 6
Dog Friendly
$195 - $875/Night
This beautiful, beachfront, 2-story home has an open floor plan that accommodates friends and family and sleeps up to 6 people, with 3 bedrooms and 2 baths. The 1st floor living room, dining room and kitchen areas look out over the ocean for a view that can't be beat! This home has plenty of windows to let the sunshine in, or to watch Oregon's dramatic storms on rainy days. Spectacular views, a gas fireplace, games and puzzles, and a large front deck overlooking an expansive sandy beach, all provide the ultimate in peace and relaxation.

The spacious primary suite, with an ocean view tub and tiled walk-in shower, is sure to please! With its own oceanfront deck, you'll enjoy the sounds of the ocean and the fresh sea air. Step downstairs to find two more bedrooms with ocean views. They share a full bath in the hallway. There is also an oversized bonus room with a queen sleeper sofa, foosball, and a wetbar for snacks. Relaxing in the ocean front hot tub is a perfect end to a day at the coast.

This home is conveniently located in a quiet, private neighborhood featuring a grassy fenced yard where your four-legged canine friends are welcome to join the fun, too! It's a very short walk to an easy to navigate beach access that leads to miles of beautiful, sandy beach. Oregon Waves is just a few miles south of the active fishing port of Newport, where you will find many activities to keep you busy, including the Historic Bayfront and the Nye Beach districts, both packed with wonderful restaurants and shops. This is a perfect destination for a romantic coastal retreat as well as for a friends and family getaway.

Sleeps up to 6 - 3 Bedrooms, 3 Kings (One can be split into two twins with prior notice), 1 Sofa Sleeper, 2.5 Bath.
Vehicles: Licensed for 3 (Strictly enforced- No street parking allowed)
Winter: 2 night minimum; Standard & Holidays: 3-4 night minimum
*Each home is individually owned. Amenities and furnishings are subject to change at any time. Please contact our office with any questions.
Rates
| Season | Period | Min. Stay | Nightly Rate |
| --- | --- | --- | --- |
| September 2023 | 09/05/2023 to 09/30/2023 | 2 | $295.00 to $395.00 |
| October 2023 | 10/01/2023 to 10/05/2023 | 2 | $296.00 to $404.00 |
| Columbus Day Weekend 2023 | 10/06/2023 to 10/09/2023 | 3 | $426.00 |
| October 2023 | 10/10/2023 to 10/11/2023 | 2 | $296.00 to $404.00 |
| Annular Eclipse 2023 | 10/12/2023 to 10/15/2023 | 3 | $440.00 |
| October 2023 | 10/16/2023 to 10/19/2023 | 2 | $296.00 to $404.00 |
| Yachats Mushroom Festival 2023 | 10/20/2023 to 10/22/2023 | 2 | $404.00 |
| October 2023 | 10/23/2023 to 10/31/2023 | 2 | $296.00 to $404.00 |
| November 2023 | 11/01/2023 to 11/21/2023 | 2 | $225.00 to $275.00 |
| Thanksgiving Weekend 2023 | 11/22/2023 to 11/26/2023 | 4 | $550.00 |
| November 2023 | 11/27/2023 to 11/30/2023 | 2 | $225.00 to $275.00 |
| December 2023 | 12/01/2023 to 12/14/2023 | 2 | $245.00 to $325.00 |
| Holiday I 2023 | 12/15/2023 to 12/25/2023 | 4 | $450.00 |
| Holiday II 2023 | 12/26/2023 to 01/01/2024 | 4 | $425.00 |
| January 2024 | 01/02/2024 to 01/10/2024 | 2 | $195.00 to $250.00 |
| MLK Holiday 2024 | 01/11/2024 to 01/15/2024 | 3 | $275.00 |
| January 2024 | 01/16/2024 to 01/31/2024 | 2 | $195.00 to $250.00 |
| February 2024 | 02/01/2024 to 02/14/2024 | 2 | $195.00 to $250.00 |
| Presidents Day 2024 | 02/15/2024 to 02/19/2024 | 3 | $250.00 |
| February 2024 | 02/20/2024 to 02/21/2024 | 2 | $195.00 to $250.00 |
| Seafood & Wine Festival 2024 | 02/22/2024 to 02/25/2024 | 3 | $425.00 |
| February 2024 | 02/26/2024 to 02/29/2024 | 2 | $195.00 to $250.00 |
| March 2024 | 03/01/2024 to 03/21/2024 | 2 | $195.00 to $250.00 |
| Spring Break 2024 | 03/22/2024 to 04/07/2024 | 3 | $406.00 to $468.00 |
| April 2024 | 04/08/2024 to 04/30/2024 | 2 | $234.00 to $300.00 |
| May 2024 | 05/01/2024 to 05/23/2024 | 2 | $225.00 to $275.00 |
| Memorial Day Weekend 2024 | 05/24/2024 to 05/27/2024 | 3 | $350.00 |
| May 2024 | 05/28/2024 to 05/31/2024 | 2 | $225.00 to $275.00 |
| June 2024 | 06/01/2024 to 06/30/2024 | 3 | $406.00 to $531.00 |
| July 2024 | 07/01/2024 to 07/01/2024 | 3 | $553.00 to $735.00 |
| July 4th Holiday | 07/02/2024 to 07/07/2024 | 4 | $875.00 |
| July 2024 | 07/08/2024 to 07/31/2024 | 3 | $553.00 to $735.00 |
| August 2024 | 08/01/2024 to 08/29/2024 | 3 | $573.00 to $776.00 |
| Labor Day Weekend 2024 | 08/30/2024 to 09/30/2024 | 3 | $607.00 |
| October 2024 | 10/01/2024 to 10/10/2024 | 2 | $371.00 to $506.00 |
| Columbus Day Weekend 2024 | 10/11/2024 to 10/14/2024 | 3 | $533.00 |
| October 2024 | 10/15/2024 to 10/17/2024 | 2 | $371.00 to $506.00 |
| Yachats Mushroom Festival 2024 | 10/18/2024 to 10/20/2024 | 2 | $506.00 |
| October 2024 | 10/21/2024 to 10/31/2024 | 2 | $371.00 to $506.00 |
| November 2024 | 11/01/2024 to 11/26/2024 | 2 | $281.00 to $343.00 |
| Thanksgiving Weekend 2024 | 11/27/2024 to 11/30/2024 | 4 | $687.00 |
| December 2024 | 12/01/2024 to 12/19/2024 | 2 | $245.00 to $325.00 |
| Holiday I 2024 | 12/20/2024 to 12/26/2024 | 4 | $562.00 |
| Holiday II 2024 | 12/27/2024 to 01/02/2025 | 4 | $531.00 |
Reviews
Guest Reviews
---
My husband, his parents, and myself had a wonderfully relaxing vacation on the Oregon coast in your beachfront home! The view and sound of the waves from the deck and the main living area and bedrooms was more than we expected. And to have such a well cared for and pristine house made us all very comfortable immediately. We couldn't think of a single entertainment or convenience that was missing. Thank you so much for letting us share in your beautiful home!
Amber , September 2023
---
Beautiful home, with great views, location was great to explore all the sights to see.
Tim , September 2023
---
Perfect stay. We will be back!
Eileen , August 2023
---
Very impressed overall, I will plan to stay here again
Debra , June 2023
---
We stayed here with our son and daughter-in-law and our 8 year old granddaughter. The house was wonderful. The check in was so easy on the tablet and the home felt warm and welcoming right away. It was exceptionally clean and every amenity was provided, including a lovely hot tub with a view of the ocean. We had a couple of questions about the beach access which we texted to the property managers and we received a helpful response immediately. And the views! Just spectacular. Opened the sliding doors at night and we were lulled to sleep by the waves. We will definitely return and plan for another magical vacation!
Sonja , June 2023
---
This home was perfect for us and our little dog. Home was clean, comfortable and cozy. I would absolutely stay in this house again.
Colleen , March 2023
---
Very spacious and comfortable. We really enjoyed our stay in this home and would recommend it to others. View of ocean in every room of the house.
Donna , November 2022
---
Family get together for Thanksmas, had a very nice and relaxing week. Beds were very comfortable, thank you for making them all king size! We used the jacuzzi every day and thoroughly enjoyed it! Thank you for a wonderful stay! We'll be baCt!
Kellie , November 2022
---
Beautiful beach house! Perfect location! Hot tub was a perfect end to our days! Have highly recommended this house to a few friends and family that visit and rent homes in the Newport area
Jesse , October 2022
---
View and house was awesome!
Fran , October 2022
---
Wonderful, comfortable home and gorgeous view!
Fran , September 2022
---
Wonderful beach front home. Fabulous hot tub. Perfect for our family and grand dog. Loved it!!
Kelly , August 2022
---
This is a beautiful home with the perfect set up for a family with children and grandparents. We love the view and the kids loved finding fossils on the beach. It is close enough to Newport so that we could get to Local Ocean twice during our stay. We would definitely come again.
Forrest , August 2022
---
Could not have found a better OR coast home to have our family get together for time on the beach, meals, and trips exploring the coast and towns nearby!
Mike , July 2022
---
Beautiful, clean house within walking distance to the beach. Hosts were very helpful and promptly replied to any questions we had. We enjoyed corn hole in the nicely landscaped backyard. We also appreciated the nice ping pong table in the garage. We would definitely love to stay at this property the next time we visit Newport!
Erika , July 2022
---
We loved the room in the house. With 3 family units and 2 dogs it was great to have space. The views were impressive. Listening to the ocean, watching the waves and walking the sandy beaches were both exhilarating and relaxing. This place is easy access to Newport and Depoe Bay (saw lots of whales) to the North and Cape Perpetua and Yachats to the South. We explored lots of tide pools, saw light houses, found sea lions and seals, and ate at great restaurants. Overall a great place and vacation.
Robert , July 2022
---
We loved our stay here. Communication was very clear and prompt. We really liked the feeling of the secluded beach. All the amenities were as listed and were perfect for our group.
Mike , June 2022
---
Oregon Waves is a lovely home with beautiful views of the ocean. We even spotted a whale one evening! Easy access to the wide, almost deserted, beach. We enjoyed several relaxing days there and highly recommend it.
Carol , June 2022
---
The property has a beautiful view of the ocean. Beach access was easy-we had multiple kids and a wagon. The place was kept very clean. We didn't have to call for the property manager, but knowing someone was on call just in case was a plus. The kitchen is stocked with all of the dishes, pots, pans, etc that we needed. The home was very clean. Check- in and check- out was also very easy! We will definitely be back!
Amanda , May 2022
---
The home had gorgeous views and was comfortable and clean. The highlight was being able to watch the gorgeous sunset from a relaxing hot tub.
Margaret , May 2022
Absolutely wonderful house, perfect for our family and doggy.
Tonya, April 2022
This is a great house. We have everything we could possibly need, even a crockpot! The beach is terrific to walk on and beach access is easy. We love this house, 2nd year in a row for my daughter's birthday.
Kellie, March 2022
This is a very nice property. Kitchen had everything we needed. Loved the decks, hot tub, and games in the garage. We'll be back! <3
Lorna, March 2022
We reserved this home for the Newport Seafood & Wine Festival which, sadly, was canceled. Decided to go anyway. Easy access to the beach and we were fortunate to enjoy a beautiful sunset! Home has a great layout and a lot of activities & games. They even had treats for the dog. Nice touch! Enjoyed an amazing lunch at JoElle's food truck in Waldport. Highly recommend! The fireplace is a bit of a challenge to get going but we had it down soon. That could be streamlined a bit. Overall, great place!!
Christina, February 2022
We loved staying here and will be coming back! The view alone is worth the trip, but the cozy home makes it that much better. We enjoyed sitting on the deck, enjoying a cup of coffee, and soaking in the sun and the view. At the end of the day the hot tub is a welcome reprieve. Lovely home and plenty to do.
Andie, January 2022
Beautiful ocean view as soon as you walk in! this home was the perfect size for 6 adults. The second TV room was great and we could spread out so the girls could watch movies and the boys football. Soaking tub in the primary also had luxurious ocean views. Second fridge was perfect and not expected! We all enjoyed the easy walk to the beach between storms. Definitely bring all the spices or cooking oils that you'd require because the home only has salt and pepper. Would definitely stay again and hopefully for longer!
Danya, December 2021
Beautiful and clean home. Amazing views. Would love to stay here again.
Timothy, November 2021
This is one of our favorite places that we've stayed in at the Oregon coast! Beautiful view, and very nice home. We hope to come back soon!
Manydy, September 2021
Absolutely amazing views! Spacious and very dog friendly. Close beach access and wonderful location. Very clean and updated.
Leah, August 2021
Great location and easy access to the beach. Lots of great games for family. Great kitchen and deck/grill for cooking and sharing a meal. Would love to come back with family again.
Elizabeth, August 2021
Peaceful scenic and just what this group of friends needed. My sister and I have a small close group of girlfriends who had not been able to see each other in person since before the pandemic. Now that we are vaccinated we decided to spend the weekend enjoying the coast together and this place was perfect. We got to spend quality time together while still having enough space for a bit of physical distancing. The hot tub and even the trail down to the beach was absolutely gorgeous, surrounded by trees and flowers. As soon as we left at the end of our weekend getaway we wished we could go right back.

Katherine, August 2021
We enjoyed the Oregon Waves house. It was very comfortable and updated. There was plenty of room for teens and adults, plus a fully fenced yard for the dogs. The views of the beach were lovely and tranquil. There was an easy 10 minute walk down to the beach nearby. (The walk is not accessible for folks with wheelchairs or mobility issues.) I highly recommend this location if you want to take a large family or group to a relaxing beach getaway.
Karla, July 2021
Fantastic beach house with an amazing view. Accurate description, pictures don't do it justice. Beach trail, nice neighborhood, perfect for families. Communication with host was excellent and we will definitely be booking again with sweet homes.

Ashley, July 2021
Absolutely wonderful house! Very kid friendly--came with a high chair, a pack n play, kids plates and silverware, kids stools, a baby gate, etc. I am really impressed. The kitchen was also excellently stocked, and the beach access is super close. Great weekend getaway!

Charlene, April 2021
The house was awesome. Had everything we needed for a 4 day stay. We spent time out on the deck watching the whale swim by. The Neighborhood was quiet and friendly. Had a short walk to the beach where we hunted for sea shells and rocks. Took time to fly kite and watch the waves and birds. The bedrooms were spacious and comfy. Had a private deck off the master where we sat at night to watch the stars. Plenty of sites to go see nearby. I can't wait to go back. Would definitely stay here again. Next time we will play more pingpong and fooseball in the garage.

Shelly, April 2021
We had a terrific week in the sunshine at the Oregon Coast for my daughter's 24th birthday! It made up for no celebration last year and no college graduation trip either. COVID Vaccinations have given us our lives back! Thank you for a great week.

Kellie, March 2021
Everything was great very clean compared to some others we've stayed at. Only problem was there were 8 bath towels and lots of dish cloths and towels but only 2 hand cloths and no hand towels. Would stay again.

Harold, February 2021
Great location with a beautiful view of the ocean. Cozy home with hot tub. Great for families with a dog.

Anonymous January 2021
Gorgeous home, gorgeous view. Would definitely return.

Michele January 2021
Had a great time. Nice house, great locations.

Erik December 2020
Beautiful home and views! We all had a wonderful time. We will definitely come back again! Thanks!

The Davis Family, June 2020
We had a lovely time, great house beautiful views- HATE TO GO HOME but it's the law! Thank you
Settle Crew, February 2020

Amenities
Dog Friendly
Gas BBQ Grill
Ocean View Deck
Free WiFi
Gas Fireplace
Hot Tub
Well Stocked Kitchen
Ocean Front - Sandy Beach
HD Flatscreen TV's
Washer & Dryer
(Ping Pong Table|Fenced Yard|Oceanfront Deck|Primary Bedroom Suite|South Beach (Newport))

Relax and enjoy the ocean views from Oregon Waves!
Enjoy the ocean views while gathering around the dinner table.
Take dinner outside and listen to the waves as you grill.
Cozy up in the living room with a fireplace and wonderful ocean views!
South Beach is full of places to explore.
Enjoy cooking dinner in a fully equipped kitchen with stainless steel appliances.
Gather your family for morning coffee and doughnuts.
The open floorplan is perfect for spending time together over dinner after a day of coastal adventures.
The open floor plan and high ceilings let in plenty of natural light.
Dine with a view of the ocean!
Take your pick of board games in the living room.
Room for everyone to relax and enjoy family time!
Sit in the sun while you play a game of checkers.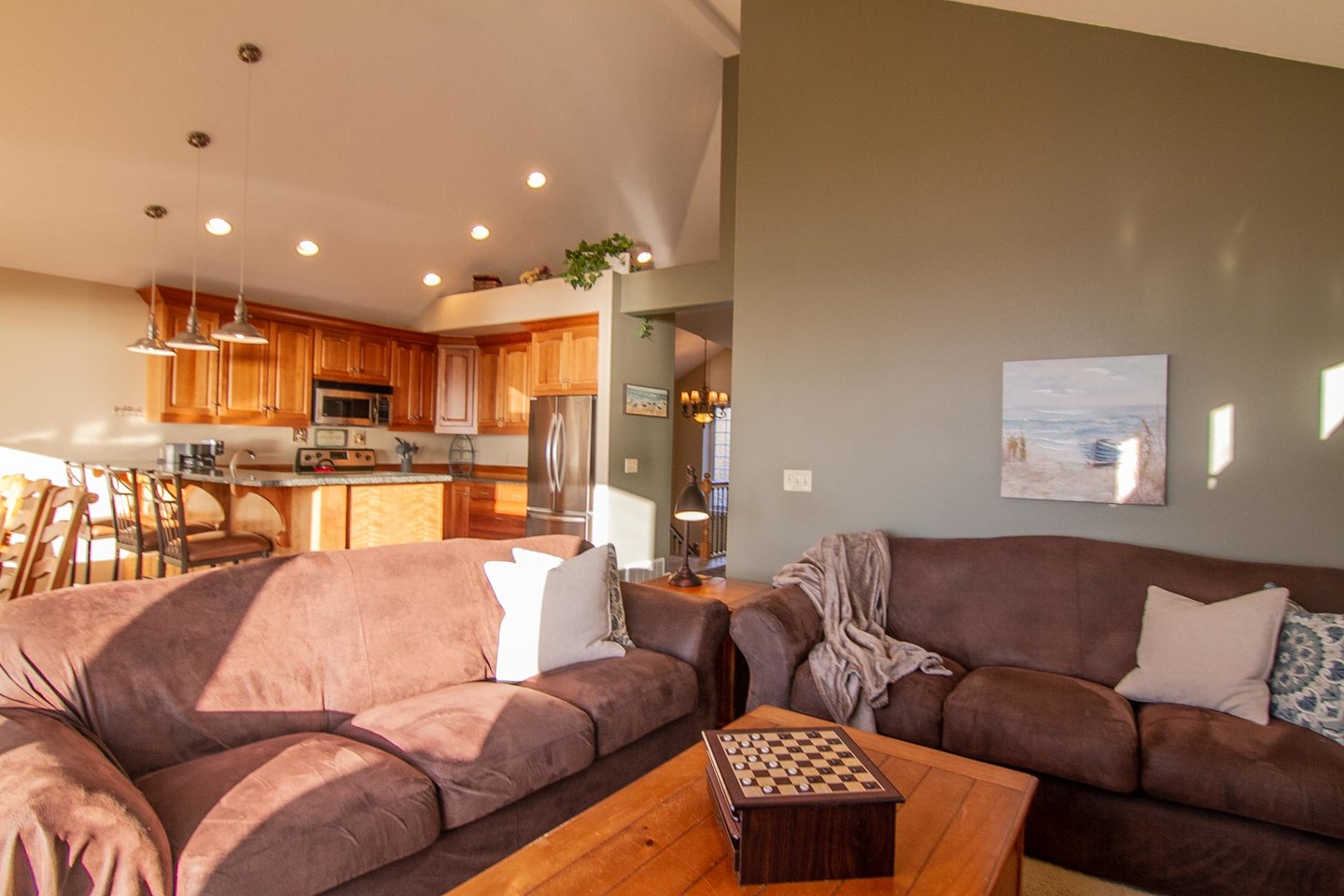 Welcome to your Sweet Home!
The clean and bright upstairs powder room.
Wake up to the wonder ocean views in the primary bedroom.
A beautiful ensuite is attached to the primary bedroom.
End your day with a book in a cozy bed.
The larger primary bathroom with a double vanity is very relaxing.
Soak in the tub after a long day (no longer a jacuzzi tub).
Enjoy the privacy of the large ensuite primary bath.
A beautiful walk-in shower.
Perfect spot for the kids - the king bed can be split into two twins with prior notice.
Make yourself at home in the first downstairs bedroom!
This reading nook is perfect for kids.
The full bathroom downstairs is large enough for both bedrooms to share.
Watch tv or the ocean from this cozy king bed.
There is no such thing as too many pillows!
Start some friendly competition with foosball.
Relax and watch a movie on the large tv downstairs.
Curl up with a book downstairs while the kids play foosball.
The private hot tub is perfect for relaxing.
The view of your yard from the upstairs deck.
The fenced-in yard is perfect for kids and dogs.
Spend family time in the garage with ping pong and music.
Oregon Waves is waiting for you!
Watch the sun go down while sitting on the front deck.
Floor Plan