Paradise Court
Paradise Court
3105 NW Oceania
Waldport
5 bedrooms
4 baths
Sleeps up to 8
Dog Friendly
$195 - $973/Night

Bring your A-game and get plenty of action at the back yard game sport court: if you can imagine it, you can play it! Paradise Court is a spacious home with 5 bedrooms and 4 baths – a perfect getaway for the active family or a multi-generational family! Furnished with a touch of the tropical, this home is perfect for several couples or a lovely family retreat. Spend time at the beach, just a short walk across the street, play a rousing game of dodgeball, badminton or another net game, and then soak in the warm bubbles of the hot tub on the patio. Inside you will find everything you need to have a truly relaxing vacation.

An open floor plan with comfortable couches and dining for the entire group will allow you and your loved ones to catch up on old times in peaceful surroundings. The kitchen is stocked with all the supplies that you will need to share a wonderful meal with your family and friends. Paradise Court has 3 bedrooms and two baths on the main level all with king beds. Upstairs, enjoy the ocean views from two master ensuite bedrooms, both with king beds, that share a relaxing sitting area between the two rooms where you can watch the ever changing Pacific Ocean. There's plenty of sunlight and ocean breezes for you to enjoy!

The covered back patio is perfect for your morning coffee or tea, dinners with friends and family or just relaxing and soaking it all in! If cooking-out is what you are looking for, Paradise Court includes a gas grill! You can grill up the family's favorite meal while watching them play a rousing game on the sport court. This is the perfect home for those that drive an electric car. Pull up by the patio and plug in. There is a dedicated 50 amp outlet. Before you know it you will be charged and ready to go adventuring!

From lighthouses to forest trails and scenic lookouts, the list of activities and sights to enjoy is endless! The quaint town of Waldport is an excellent location from which to base all of your central coast explorations. Be adventurous and try your hand at clamming or crabbing right in Alsea Bay. Then come home and enjoy your seafood feast on the beach around a warm bonfire.

Sleeps up to 8 - 5 Bedrooms, 5 Kings (3 can be split into twins with prior notice), 1 twin futon, 1 twin sleeper, 1 twin daybed, 1 queen sleeper sofa, 4 Bath.
Vehicles: Licensed for 6 (strictly enforced) No boats, trailers or RV's per HOA Rules.
Winter: 2 night minimum; Standard & Holidays: 3-4 night minimum
*Each home is individually owned. Amenities and furnishings are subject to change at any time. Please contact our office with any questions.

Paradise Court
Questions?
Rates
| Season | Period | Min. Stay | Nightly Rate |
| --- | --- | --- | --- |
| September 2023 | 09/06/2023 to 09/30/2023 | 2 | $295.00 to $350.00 |
| October 2023 | 10/01/2023 to 10/05/2023 | 2 | $275.00 to $325.00 |
| Columbus Day Weekend 2023 | 10/06/2023 to 10/09/2023 | 3 | $350.00 |
| October 2023 | 10/10/2023 to 10/11/2023 | 2 | $275.00 to $325.00 |
| Annular Eclipse 2023 | 10/12/2023 to 10/15/2023 | 3 | $350.00 |
| October 2023 | 10/16/2023 to 10/19/2023 | 2 | $275.00 to $325.00 |
| Yachats Mushroom Festival 2023 | 10/20/2023 to 10/22/2023 | 2 | $325.00 |
| October 2023 | 10/23/2023 to 10/31/2023 | 2 | $275.00 to $325.00 |
| November 2023 | 11/01/2023 to 11/21/2023 | 2 | $300.00 to $350.00 |
| Thanksgiving Weekend 2023 | 11/22/2023 to 11/26/2023 | 3 | $650.00 |
| November 2023 | 11/27/2023 to 11/30/2023 | 2 | $300.00 to $350.00 |
| December 2023 | 12/01/2023 to 12/14/2023 | 2 | $225.00 to $275.00 |
| Holiday I 2023 | 12/15/2023 to 12/25/2023 | 4 | $425.00 |
| Holiday II 2023 | 12/26/2023 to 01/01/2024 | 4 | $395.00 |
| January 2024 | 01/02/2024 to 01/10/2024 | 2 | $250.00 to $275.00 |
| MLK Holiday 2024 | 01/11/2024 to 01/15/2024 | 3 | $285.00 |
| January 2024 | 01/16/2024 to 01/31/2024 | 2 | $250.00 to $275.00 |
| February 2024 | 02/01/2024 to 02/14/2024 | 2 | $225.00 to $250.00 |
| Presidents Day 2024 | 02/15/2024 to 02/19/2024 | 3 | $310.00 |
| February 2024 | 02/20/2024 to 02/21/2024 | 2 | $225.00 to $250.00 |
| Seafood & Wine Festival 2024 | 02/22/2024 to 02/25/2024 | 3 | $400.00 |
| February 2024 | 02/26/2024 to 02/29/2024 | 2 | $225.00 to $250.00 |
| March 2024 | 03/01/2024 to 03/21/2024 | 2 | $250.00 to $325.00 |
| Spring Break 2024 | 03/22/2024 to 04/07/2024 | 4 | $468.00 to $531.00 |
| April 2024 | 04/08/2024 to 04/30/2024 | 2 | $270.00 to $330.00 |
| May 2024 | 05/01/2024 to 05/23/2024 | 2 | $195.00 to $295.00 |
| Memorial Day Weekend 2024 | 05/24/2024 to 05/27/2024 | 3 | $395.00 |
| May 2024 | 05/28/2024 to 05/31/2024 | 2 | $195.00 to $295.00 |
| June First Half 2024 | 06/01/2024 to 06/14/2024 | 3 | $468.00 to $568.00 |
| June Second Half 2024 | 06/15/2024 to 06/30/2024 | 3 | $468.00 to $568.00 |
| July 2024 | 07/01/2024 to 07/01/2024 | 3 | $693.00 to $770.00 |
| July 4th Holiday | 07/02/2024 to 07/07/2024 | 4 | $973.00 |
| July 2024 | 07/08/2024 to 07/31/2024 | 3 | $693.00 to $770.00 |
| August 2024 | 08/01/2024 to 08/29/2024 | 3 | $668.00 to $803.00 |
| Labor Day Weekend 2024 | 08/30/2024 to 09/02/2024 | 3 | $607.00 |
| September 2024 | 09/03/2024 to 09/30/2024 | 3 | $472.00 to $533.00 |
| October 2024 | 10/01/2024 to 10/10/2024 | 2 | $371.00 to $438.00 |
| Columbus Day Weekend 2024 | 10/11/2024 to 10/14/2024 | 3 | $472.00 |
| October 2024 | 10/15/2024 to 10/17/2024 | 2 | $371.00 to $438.00 |
| Yachats Mushroom Festival 2024 | 10/18/2024 to 10/20/2024 | 2 | $438.00 |
| October 2024 | 10/21/2024 to 10/31/2024 | 2 | $371.00 to $438.00 |
| November 2024 | 11/01/2024 to 11/26/2024 | 2 | $375.00 to $437.00 |
| Thanksgiving Weekend 2024 | 11/27/2024 to 11/30/2024 | 4 | $812.00 |
| December 2024 | 12/01/2024 to 12/19/2024 | 2 | $225.00 to $275.00 |
| Holiday I 2024 | 12/20/2024 to 12/26/2024 | 4 | $531.00 |
| Holiday II 2024 | 12/27/2024 to 01/02/2025 | 4 | $493.00 |
Reviews
Guest Reviews
---
It was a nice surprise when I received a text advising of an early check-in. Speaking of which, check-in was easy. The tablet with local information was nice. The house was perfect for our group of 5. Everyone had their own bedroom and therefore their own space if they wanted solitude. No one tripped over each other in the kitchen as it was large enough to maneuver. The close proximity of the beach access was a plus. We enjoyed our stay and would love to return some time in the future.
Barb , September 2023
---
This house was AMAZING! The layout was perfect for several families. The kitchen was a bit outdated but it didn't get in the way of a great time! Loved the walk to the beach!
Melody , August 2023
---
Everything we needed for a relaxing getaway.
Annie , August 2023
---
Beautiful place! Lots of space for our family of 7 adults, 1 toddler, and a small pet:) Love the roomy kitchen! Will definitely book here again when we're in that area! Great location!
Christina , August 2023
---
This house was perfect for family gathering of adult couples. Beach access is across the street and easy to navigate. Beautiful beach views from upstairs. The kitchen is well equipped. There are spaces for indoor & outdoor gathering.
Janette , July 2023
---
The house was perfect for our family and family friends. It was very clean and big enough for us all to spread out. The kitchen had everything that we needed to make dinners. The access path to the ocean was a very short walk. We loved it. I would look into booking directly with Sweethomes and save some extra money.
Stephanie , June 2023
---
Our group had a great time in the house. Check-in by keypad was easy, so we all knew the code and could come and go without depending on one person with a key to let us in. Comfortable beds and lots of clean white towels in the bathrooms. Having a second refrigerator was extremely helpful too.
Elaine , June 2023
---
My family and I rented this house for mothers day and my birthday. We had the absolute best time! This house has so much room. Everyone had their own rooms, two masters was a huge plus as we had my husband and I as well as my parents staying. We played volleyball and badminton on the tennis court, enjoyed the hot tub every night and were only about 20 feet from the beach access. This home is perfect for large multi-generational family gatherings and we will be back! Only downside was no air conditioning. Usually being this close to the ocean doesn't need AC, but we stayed during record breaking temps (85 and no breeze) for the area and just roasted.
Shylo , May 2023
---
We wanted my son and his wife to meet my husband's daughter and her husband in a relaxed, friendly, comfortable setting. This house was the perfect choice. Everyone had their own bedroom/bath for privacy, yet there was ample room for everyone (all 7 of us) to get together so all could get to know each other. The relaxed atmosphere of the neighborhood, along with the fabulous ocean view was the perfect setting. Everyone had a great time!
Terry , April 2023
---
Clean, nice property. Close to beach access and beautiful hiking! Plenty of linens and extra blankets. Very spacious!
Rachel , March 2023
---
This is a very nice up-to-date house with 5 large bedrooms, each with a king bed. There are 4 full bathrooms - 2 upstairs en suite. We were very comfortable. The kitchen is well supplied with all your cooking supplies ( just bring your own spices etc). The dining and living areas are large and comfortable too. A big, beautiful beach is across the street and Waldport is 2 miles away. We were very happy.
Louise , January 2023
---
Lovely, spacious home with close access to the beach across the street. We enjoyed our stay!
Dee Dee , October 2022
---
We had a great time in this house. Lovely view of the beach from both master bedrooms. Plenty of space and lots of bathrooms. Great place for multiple families.
Jenifer , August 2022
---
Spacious house with great outdoor space for kids and dogs to play. Yard is fenced and beach is only a short walk away. House is well stocked with all the necessities.
Jamie , August 2022
---
Beautiful home! Bigger than it appears in the pictures. Easy access to the beach. We had a large group with a kiddo and a dog and everyone felt really comfortable.
Sarah , August 2022
---
This house was perfect for our family. Thanks so much for a great stay.
Sheila , July 2022
---
This was a very accommodating home for 11 people. Everyone had a bed and there was plenty of seating downstairs for everyone. The hot tub was wonderful! Having beach access so close to this home was also a plus! Check in is so easy and Sweet Homes was very good communicating with me.
Claudean , July 2022
---
Property has all the items on hand we needed. Awesome view and location with close beach access.
Teresa , June 2022
---
This house is a gem in a great location, amazing layout and perfect for our family gathering!
Kelli , May 2022
Amazing place to rent! So much space for a big family/group of people. Comfortable king size beds in all rooms, great backyard space, stocked well, and just a few steps from the beach! Would absolutely rent this home again!
Brittany, April 2022
Nice house, nice area, enjoyed badminton and the hot tub. Super close to the beach, less than two minute, pretty much flat walk. Would stay again!
Nicole, April 2022
This is a great location with excellent views of the ocean. Less than 5 minutes to the sand. Nice big bedrooms that are tastefully decorated. Kitchen has a good sized refer and a smaller drink fridge as well. Unit was clean and ready for us a couple hours early! Bring your own knives, seriously, bring your own! We would rent again!
Neil, March 2022
This home is a beautiful place to stay. Big kitchen with everything you need. 5 privacy bedrooms with more hide-a-beds and throughout. 4 bathrooms with all double sinks in them. Hot tub and back patio was very nice. We didn't use the tennis court, but it was nice too. My favorite spot in the home was the upstairs pub table where we could drink our coffee and watch the waves. I would stay here again.
Justy, February 2022
This home is absolutely gorgeous! Wonderful views, big spacious rooms, very easy beach access, and ample bathrooms.
Lindsey, January 2022
Unfortunately, due to the heavy snow, half of our family wasn't able to join us. But the seven of us who made it to the house were very happy with the whole situation. It was very welcoming, very clean , and provided everything we needed to have a celebration and a little bit of family reunion. The hot tub was very much enjoyed on the cold snowing days. Yes, we had snow that stayed for several hours on one day. We had a Samoyed dog with us who loved running on the beach and being with all the family inside. We will certainly consider renting this house another time for a get together. Thanks you very much.
Pamela, December 2021
Across from the beach with its own badmitten court. Large rooms with lots of windows. What's not to like? I would visit here again.
John, July 2021
We have officially stayed at this house 2 times now and each time we have loved it. The house is spacious and well equipped for anything we may need. Being so close to the beach and having spectacular views is a huge plus we have 10 in our party this second time and enjoy all of the space this house has, plus it is pet friendly! Staying here really makes the trip less stressful and more fun. All of the awesome memories made here will really live in our heads for years to come. Thank you for sharing your awesome beach house with us!

The DeMotts & Bowman's, June 2021
Thank you for a wonderful vacation stay. The house was clean and well equipped. It lived up to the write up on the website. Our family enjoyed our stay!

The LaGuire Family, June 2021
Great location, great property, great place. Highly recommended.

Justin, July 2021
Thank you for an amazing stay at your house. The house is very well-equipped! The house is also very clean and roomy. We loved our family (3 gen) Thanksgiving vacation! Thank you for everything - we will be back!
The Andreasen's, November 2019
Three generations of our family ALL together for a wonderful weekend - even out-of-town grandkids from Nevada! How blessed to have great mild weather in late November. The house is ideal; roomy well equipped kitchen, plenty of bathrooms, a sport court and equipment that was a real bonus for our active family. I will recommend the house - and the management company- to my friends in Roseburg.
The Holborow Family, November 2019
What a wonderful time crabbing, walking on the beach and enjoying time with friends. This has been the most well stocked house we have rented with crock pots, pans, hot tub and 2 refrigerators. Having 5 bedrooms and multiple bathrooms was fabulous. Great view from the second story. Huge master bathroom. The furnishings and decor were comfortable and well put together. The huge table worked great for games, eating and visiting. We will be back.
Cindy, Jeff and Dylan, October 2019
3 days and two nights of great company and relaxation. The house is super roomy so no one was tripping over each other and the four bathrooms allowed privacy for everyone. The decor and furnishings are warm and comfortable and welcoming. The time here has been very enjoyable. I would highly recommend for groups or families.
Ladonna, October 2019
This beach house was wonderful, homey and colorful decor that makes me feel right at home. Each bedroom is spacious and even has its own bathroom. Perfect for large parties, multiple families, or if you wish to have the whole house to yourself, that's cool too. It's also very awesome that it is very dog friendly. The beach is simply steps away. About 13 minute either north or south from this location are restaurants or breweries. However, if you're into cooking, the kitchen is equally as impressive. I'll also add that the whole house is super clean. I think a couple of my favorite aspects is the variety of places you can relax around the house- beach, hot tub, the outside bed (especially in the sun) and of course, bringing your dog :)
Anonymous, October 2019
We are three generations of family from IA, CO, and OR. Had a great time together. Bonfire on the beach, whale watching, shopping and of course eating. This is a perfect home for a large family.
Linda, September 2019
Great home for a group and great location! Really enjoyed our visit. Saw whales and incredible sunset!!
Karen, July 2019
Great home for a gathering being so close to the ocean.
G&R, July 2019
Wonderful layout for a large group. Nice and close to the beach.
D&E, July 2019
A wonderful house. Plenty of room for the four families! Very comfortable...and what can we say about the views! Magnificent!!! I would love to come back!
Kate, July 2019
I am 86 years young. I enjoyed every moment here- the views- the beauty around us- thank you so much!
Joan, June 2019
So much fun...little time to write. Enjoyed lovely home for 3 days, hot tub, views, all we needed and more. So good to get family together from OK, AZ & OR. Ate crab, dug in sand, fly kites, visit Newport. Blessed Time. Thank you!
K. B., June 2019
Our family of 7 stayed here and absolutely fell in love with the house! It's beautifully decorated and large enough for each couple to have their own bedroom/bathroom. Proximity to the beach is great too! Thank you Sweet Homes for an amazing stay!
The Dubay and Byfield family, Memorial Weekend 2019
Amenities
Dog Friendly
Gas BBQ Grill
Free WiFi
Hot Tub
Short Walk to a Sandy Beach
HD Flatscreen TV's
Washer & Dryer
Electric Car Charging Station
(Outdoor Sport Court|Free Cable or Satellite Television|Master Suite|Sunny & Bright)

Watch the sun set from the comfort of your bedroom ensuite!
The great room is open and sunny, perfect for a gathering of friends and family.
Gather around the television to watch a great movie or sporting event.
The big bay windows let in plenty of light.
Enjoy the sunshine and a favorite drink while sitting at the living room bay window.
The kitchen is open to the dining/living room.
A great space to cook up a fantastic meal for family and friends.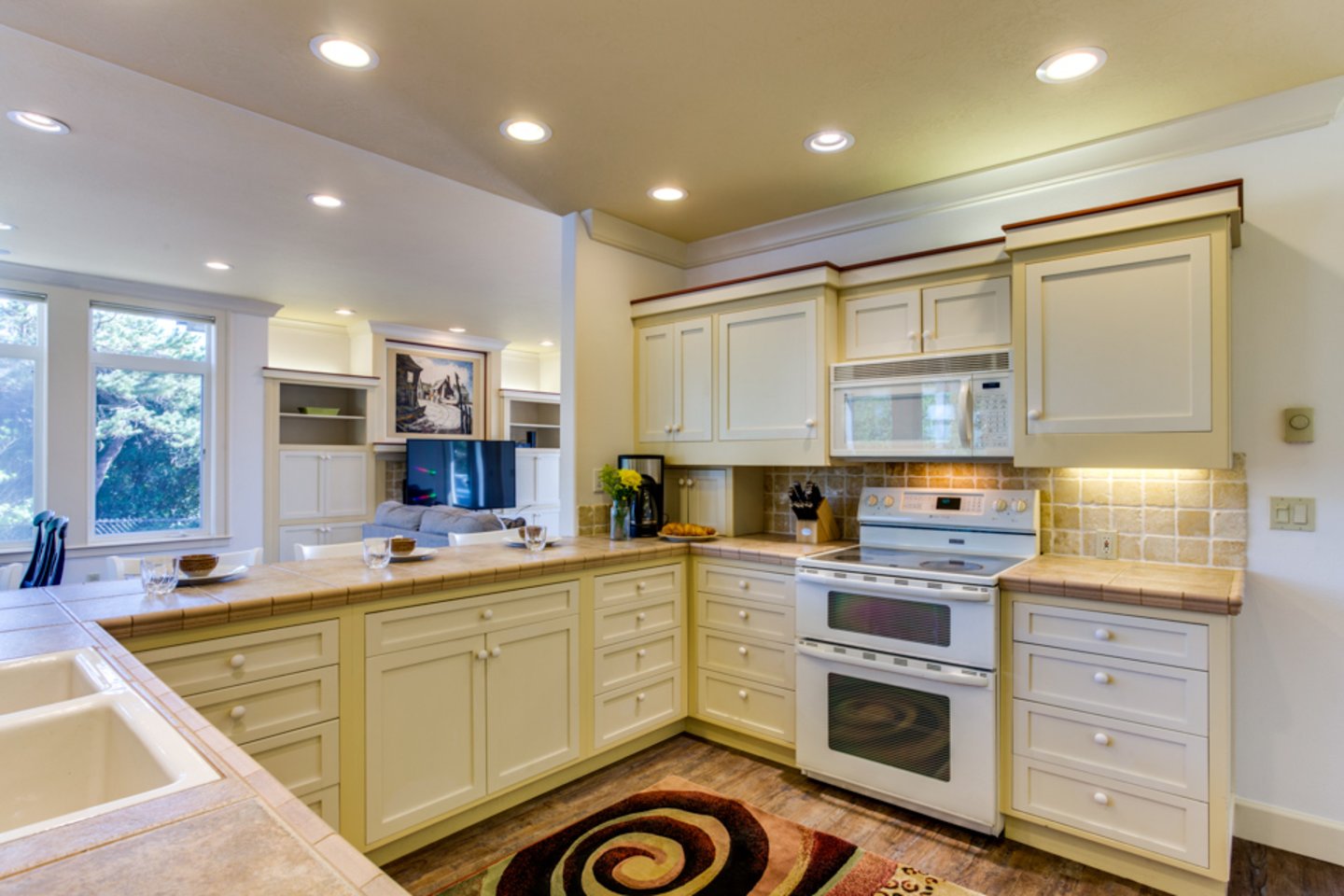 The spacious kitchen allows for a lot of cooks in the kitchen!
Bright and airy, their is plenty of space for meal prep.
Enjoy together time while sitting at the kitchen breakfast bar.
Eat together at the dining table and kitchen bar.
Comfy bar stools invite you to chat and watch the cook in the kitchen!
The dining room is fabulous to play games or enjoy a family meal.
Enjoy the sunshine and ocean view from the master bedroom.
Sit and enjoy the ocean views from this king ensuite.
The first king ensuite upstairs is a great getaway from the hustle and bustle.
Added sleeping space is available with the futon in the bedroom.
Attached to the king is this nice and roomy bathroom for added privacy.
Upstairs between the two king suites is a pub table to sit and enjoy the ocean views.
Bright and airy, with seating by the bay window, you will enjoy watching the ocean.
The second upstairs king ensuite has a king bed that can be split into two twins with prior notice.
Added sleeping space is available with the daybed in the bedroom.
The bright and airy downstairs king bed is a wonderful retreat.
Just across the hall is a roomy bathroom.
A colorful downstairs bedroom with a king bed that can be split in to two twins with advance notice.
Enjoy this wonderful space, either with the king bed or with two twins for the kids!
The third downstairs bedroom has a king bed that can be split in to two twins with prior notice.
Lay in bed and watch late night television!
The sunny entryway is very spacious!
Relax under the covered patio and enjoy either the patio daybed or the hot tub!
The sport court can add loads of fun for playing badminton, tennis or even volleyball!
Relax in the hot tub after a day of exploring or playing on the sport court.
Roll out your yoga matt on the court behind the covered patio.
The gas grill is perfect for making a yummy meal!
Enter in to the sport court and have some fun.
After a day playing in the ocean you can wash the salt water away!
Welcome to Paradise Court!
Enjoy your coastal experience at Paradise Court!
Miles of sandy beach to walk and explore!
Enjoy the beautiful sunsets!
Floor plan