Whales Cove
Whales Cove
973 SW Waziyata Avenue
Waldport
2 bedrooms
1 baths
Sleeps up to 6
Dog Friendly
$75 - $312/Night
This ocean view cottage is just across the lane from a sandy beach and the mighty Pacific. With ocean views from the front and side of this home, couples, families and small groups of 6 or less will love this little beach getaway! The home has a comfortable living and dining area, a nice-sized galley kitchen, a Queen sized bedroom and a 3/4 bath on the first floor, along with a separate laundry and mud room. Upstairs, there is a TV room with a Full size futon, and another bedroom with a Queen bed and a Twin bed. This bright, cheerful cottage is dog friendly, too! With free WiFi, satellite TV, and an assortment of games and books, this home offers lots of fun amenities. Meander down to the beach where you will find yourself at the jaws of the Alsea River. Be on the lookout for our resident seals - they often lounge on the sand bank - and watch the fishermen haul in their catch of Dungeness crab.

Sleeps up to 6 - 2+ Bedrooms: 1 Queen bedroom, 1 bedroom with a Queen bed and a Twin bed, a TV room with a Full size futon, 1 Bath
Vehicles: Licensed for 2 (strictly enforced)
Standard: 2 night minimum; Summer & Holidays: 3-4 night minimum.
*Each home is individually owned. Amenities and furnishings are subject to change at any time. Please contact our office with any questions.
Rates
| Season | Period | Min. Stay | Nightly Rate |
| --- | --- | --- | --- |
| September 2023 | 09/05/2023 to 09/30/2023 | 2 | $125.00 to $150.00 |
| October 2023 | 10/01/2023 to 10/11/2023 | 2 | $100.00 to $125.00 |
| Annular Eclipse Oct 14 | 10/12/2023 to 10/15/2023 | 3 | $150.00 |
| October 2023 | 10/16/2023 to 10/31/2023 | 2 | $100.00 to $125.00 |
| November 2023 | 11/01/2023 to 11/21/2023 | 2 | $125.00 to $150.00 |
| Thanksgiving Weekend 2023 | 11/22/2023 to 11/26/2023 | 3 | $195.00 |
| November 2023 | 11/27/2023 to 11/30/2023 | 2 | $125.00 to $150.00 |
| December 2023 | 12/01/2023 to 12/14/2023 | 2 | $125.00 to $175.00 |
| Holiday I 2023 | 12/15/2023 to 12/25/2023 | 4 | $225.00 |
| Holiday II 2023 | 12/26/2023 to 01/01/2024 | 4 | $200.00 |
| January 2024 | 01/02/2024 to 01/31/2024 | 2 | $100.00 |
| February 2024 | 02/01/2024 to 02/14/2024 | 2 | $75.00 to $100.00 |
| Presidents Day 2024 | 02/15/2024 to 02/19/2024 | 3 | $150.00 |
| February 2024 | 02/20/2024 to 02/21/2024 | 2 | $75.00 to $100.00 |
| Seafood & Wine Festival 2024 | 02/22/2024 to 02/25/2024 | 3 | $150.00 |
| February 2024 | 02/26/2024 to 02/29/2024 | 2 | $75.00 to $100.00 |
| March 2024 | 03/01/2024 to 03/21/2024 | 2 | $100.00 to $125.00 |
| Spring Break 2024 | 03/22/2024 to 04/07/2024 | 4 | $165.00 to $214.00 |
| April 2024 | 04/08/2024 to 04/30/2024 | 2 | $82.00 to $110.00 |
| May 2024 | 05/01/2024 to 05/23/2024 | 2 | $86.00 to $115.00 |
| Memorial Day Weekend 2024 | 05/24/2024 to 05/27/2024 | 3 | $143.00 |
| May 2024 | 05/28/2024 to 05/31/2024 | 2 | $86.00 to $115.00 |
| June First Half 2024 | 06/01/2024 to 06/14/2024 | 3 | $110.00 to $137.00 |
| June Second Half 2024 | 06/15/2024 to 06/30/2024 | 3 | $125.00 to $150.00 |
| July 2024 | 07/01/2024 to 07/01/2024 | 3 | $210.00 to $270.00 |
| July 4th Holiday | 07/02/2024 to 07/07/2024 | 4 | $312.00 |
| July 2024 | 07/08/2024 to 07/31/2024 | 3 | $210.00 to $270.00 |
| August 2024 | 08/01/2024 to 08/29/2024 | 3 | $215.00 to $275.00 |
| Labor Day Weekend 2024 | 08/30/2024 to 09/02/2024 | 3 | $180.00 |
| September 2024 | 09/03/2024 to 09/30/2024 | 3 | $120.00 to $150.00 |
| October 2024 | 10/01/2024 to 10/10/2024 | 2 | $120.00 to $150.00 |
| Columbus Day Weekend 2024 | 10/11/2024 to 10/14/2024 | 3 | $180.00 |
| October 2024 | 10/15/2024 to 10/31/2024 | 2 | $120.00 to $150.00 |
| November 2024 | 11/01/2024 to 11/26/2024 | 2 | $137.00 to $165.00 |
| Thanksgiving Weekend 2024 | 11/27/2024 to 11/30/2024 | 4 | $247.50 |
| December 2024 | 12/01/2024 to 12/19/2024 | 2 | $125.00 to $175.00 |
| Holiday I 2024 | 12/20/2024 to 01/02/2025 | 4 | $270.00 |
Reviews
Guest Reviews
---
We had a beautiful visit. I was surprised by the views and easy access to the ocean. We didn't miss out on a single sunset watching the sea otters swim in the ocean. The house is super cute and everything we needed was there. Thank you.
Julie , August 2023
---
It was a sweet cottage that made us feel at home. It was well equipped and comfortable.
Andrea , July 2023
---
We loved our stay at the cottage! I had two small girls, ages four and two, and our Labrador. The cottage was the perfect set up. We will be back!
Amy , July 2023
---
A cute, quaint little beach cottage! Ample room for our family of four and our pup. Conveniently located walking distance to the beach and Hilltop Cafe, and a short drive into Waldport. We had everything we needed!
Brianne , July 2023
---
We had a great stay at Whales Cove. Check in and checkout were simple. We enjoyed watching the sunset over the ocean from the comfort of the couch. Lunch was just a short walk away at the cafe. The house had everything we needed.
Kelsey , June 2023
---
Cute older cottage. Well equipped modern kitchen. Comfortable beds and a good view of the ocean.
Melissa , May 2023
---
Wonderful cottage by the ocean. It worked great for 3 adults, 2 kids & a baby. We appreciated that they were fully stocked of clean towels and extra linens. The kids beach toys were awesome for our kids! My personal favorite was the beautiful sunset view every evening. I would stay again!
Dorothy , May 2023
---
Whales Cove was perfect for our family of four. The views were amazing, and it was a great jumping-off point for walking the beach, hiking at Cape Perpetua, crabbing in Waldport, and exploring Newport and Yachats. We would definitely rent there again.
Jessica , March 2023
---
We really enjoyed our stay! Clean, close to beach, and very comfortable.
Sarah , September 2022
---
Chill little house in a quiet location with easy beach access. I'd stay here again.
Craig , August 2022
---
If you're looking for a comfortable and convenient home base on the coast, this place is great. The location made it easy to explore from Newport down to Florence, the beds were comfortable, and the kitchen was well stocked (always a gamble with rentals!). We had a little trouble logging into the Wifi initially but we got a call immediately when we flagged the issue. Warning that the trip down to the beach is a little steep, but once you've made it down you can walk for some distance.
Heidi , July 2022
---
We were so pleased with this cute cottage home in Waldport. It was the perfect home base for exploring up and down the Oregon coast. Every detail has been thought of, so you can just relax and enjoy. No large TV here - which is great since most people watch too much anyway. Having the beach so close was a huge bonus. We are a big family and everyone was comfortable, it is the perfect vacation home in a lovely setting.
Courtney , July 2022
---
This cottage has a great location for those wanting a quiet place to unwind and watch nature. While small, it is remarkably well laid out and the kitchen is very functional. Our favorite pastime besides walking the beach was sitting in the living area looking at the view and neighborhood birds.
Jocelyn , June 2022
---
Nice, quiet cottage near the ocean with great views. We saw some sea lions at the beach.
Patrick , May 2022
---
Just steps away from the beach located in a nice quiet neighborhood. Great place to view beautiful sunsets and ocean wildlife. The house is old but nice and has everything you could possibly need.
Patricia , May 2022
This was a great place for my family and our pet to stay. It had a great little side yard to play in. The kitchen had all the utensils and cooking items we needed for our stay. The house also had a cute little play room upstairs where our younger child enjoy the books and toys and our older child enjoyed the TV and internet to play the Nintendo Switch. The house is located very close to the town of Waldport and we had a great time exploring the town with our kids. We also loved how close it was to the beach. There was an access right across the street from the rental that was closed due to erosion but we were able to use it just fine. There is a drop off of gravel and there are a ton of tree debris by the trail start but once you go through that you have clear beach for miles!!! My family and our dog were easily able to use the access as well as other families staying in neighborhood. The neighborhood was so nice and quiet, very friendly neighbors!!!!! Check in for our stay was very easy, using the tablet that is left in the home. We did not need any assistance during our stay, but before our stay Sweet Homes was very quick to answer any questions I had before our trip. Check out was also an easy process. The check out on the tablet had an error so I called and left a message with our property manager that we had checked out. There was a technical difficulty on my end so about 30 min later I called and left another message just confirming they got our check out info and I got a text back right away saying they received it and everything is good and they hoped we had a good stay!!!! Overall this rental was perfect for our family and I definitely recomend this rental or any rental that is rented by Sweet Homes.

Erin, April 2022
This is a perfect place to enjoy a quiet portion of the Oregon coast. The place is cute, clean, and well stocked and Sweet Homes was very helpful.

Elias, March 2022
It was a great little house, liked being so close to the beach.

Liz, February 2022
It is a cute cabin. Great beach access. And wonderful communication.

Jordan, January 2022
The house was perfect and everyone I spoke to at Sweet Homes was great. Even the neighbors we met were lovely and kind. Would definitely go again and would definitely recommend!

Nikki, January 2022
This is a very cute and well-appointed house. The house was immaculate. There were two of us on this quick getaway, and the house size is perfect for two. The kitchen is loaded with any sort of cookware of bake ware you could need, and the appliances are top notch. The water is hot in the shower, the bed is comfortable, and there's a lovely ocean view out the side window. Beach access is right outside the front door (beware if you have mobility issues, the path is steep). Short drives south to Cape Perpetua, and north to Newport. All in all, a lovely stay!

Lisa, December 2021
This is a great location next to beach access.

Alysia, November 2021
This little cottage is a cozy, sweet getaway, with great access to a beach that goes on for miles and changes dramatically between high and low tide. The neighborhood is extremely quiet-- absolutely no car traffic. Hardly anyone uses the beach, which makes it a paradise. Excellent value for the money.

Sharon, October 2021
Perfect for a peaceful family get away. Beach access was a little tough, but still acceptable for our family. Very well appointed little home.

Laura, August 2021
Perfect little pet friendly home!

Chaylene, August 2021
Cute dog friendly place with great beach access!

Gail, August 2021
Cute property. Worked perfect for our family of 4 plus 2 adult friends. Plenty of space. Beach access right outside front door. Great birding views and lots of driftwood. Waldport is a great town.

John G., July 2021
Had the most wonderful stay! The home itself was very well kept and cozy. It is walking distance to the beach and is the perfect little get away! Would highly recommend. The check in and out process was very easy and the communication was excellent! Would definitely consider staying here again!

Megan, July 2021
The house was a great little base for me, my parents, and pup as we explored the coast! Really convenient to Newport and Florence, as well as all the beaches and stops along 101 in between. The house includes a fun supply of games and puzzles as well as some assorted movies/sat TV in the upstairs TV area. Since we had my dog with us we brought some extra sheets and things so that we could keep the furniture covered and clean- be sure to read the rental agreement if you're bringing yours along as well!
Cory, July 2021
We would stay here again in a heartbeat.
Bridget, July 2021
The house is warm and inviting. The beach is further away than I expected, but we could see the ocean from multiple windows in the house. Getting down the beach is a little difficult, but if you can make it down there, the view is gorgeous (and there are often seals lying around). There are other, less difficult beach access points just down the road, so don't be discouraged. Also, there is a small restaurant right next to the neighborhood called Hilltop Cafe Bistro that you absolutely must enjoy during your stay. Inside the home, the beds are comfortable, the kitchen has every appliance and tool you could every need for cooking any meal. The fridge is huge, so there is room for your groceries and your leftovers! The neighbors seemed nice as well. Each morning when I walked my dog, I was greeted with some smiles and waves, but never any glares or rude gestures.
Lacey, April 2021
Cutest little cottage! Thoughtful amenities and well designed. Perfect for our little getaway!
Alisha, April 2021
This is a very cute cottage just 4 minutes walk to the sea. You have to go down a steep walk to get there and there is quite a bit of driftwood on the beach but if you are able, it's well worth the walk. You can see the ocean from several house windows. There is no bathroom upstairs and no television you can watch from the upstairs bed, but there is a good size tv in the upstairs living area and a small one in the downstairs bedroom. The amenities are good, pots, pans, utensils, crockery etc. The heating works well. Lovely art on the walls. Easy key entry rather than an electronic box. There is no driveway, just a bit of lawn at he front of the house to park on. Definitely a one car parking area. I enjoyed my time there.
Jade Rosina, March 2021
Our stay was cozy and the amenities were perfect for what we needed. The kitchen was well stocked and made for easy home meals to be made. The beach was within walking distance. We were very comfortable at this cute home!
Yvonne, February 2021
The space is really cute and cozy, close to town, hikes, and of course the beach.
Libby, February 2021
Sweet Cottage in Waldport. The nearby beach access pathway is currently closed due to being washed out. However, a kind neighbor showed us how to walk down to the beach. You may need to ask the Host to describe the way to the pathway and public access is at the end of the street and through the driveway of the last house. Hopefully the nearby pathway will be repaired before summer visits!
SaraJune, February 2021
Great location with a short walk to the beach. Has everything you need for a very comfortable stay.
McKenzie January 2021
Nice living spaces, slept family of 5 plus our dog comfortable. Kitchen is full equipped. Note that the beach access is closed, so you need to travel on 101 a little to get down to the shore.
Eric January 2021
Proximity to ocean beaches is spectacular. Lovely experience.

Jessica December 2020
Super clean-Just steps to the beach-Quiet-Great use of space in the cozy cottage! Perfect!!
We thoroughly enjoyed our stay at Whales Cove. The house was super clean and comfortable. They have an ample supply of all the extra blankets, pillows and amenities you might need. The space is well utilized, up to date and nicely furnished. The beds were neatly made with cotton sheets and very comfortable. I am fussy about staying places that smell musty or even the faintest residual smell of cigarettes or pets. The Whales Cove cottage did not have any noticeable odor of previous guests, pets or strong cleaning chemicals. It smelled fresh upon arrival and was easy to heat. We enjoyed the fireplace in the mornings and aired the house out in the afternoon. We have stayed at several vacation rental properties in the Bayshore/Waldport community over the years and this was definitely one of our favorites! The neighborhood is very quiet and it seems to be predominantly home owners on the street. This is definitely a great place for a family and i would not recommend to anyone who wants to party. Thank you!
Laureen O. December 2018
Relaxing Retreat
Very cozy and enjoyed the quiet peacefulness of the location.
The fireplace was wonderful..... was a great relaxing retreat.
Joli C. December 2018
This was a great location with easy access to the beach and town. Home is well-taken care of. We had a great time.
Julie P. July 2018
My husband and I needed a rest! We found the perfect spot for the two of us and our two large dogs. The house had everything we needed (including a small mud room to clean the dogs in when we came back from the beach) and was in a great location. It was very close to the beach access path too.
The friendly staff had anticipated our needs before we arrived and most items we had forgot were there. The Greeter came and provided all the information we needed about the house and made us feel very welcome. We did have a burner go out on the stove while we were there and it was fixed quickly that same day.
Overall, I would highly recommend the house and this company! We had the best week of rest ever!

Virginia H. May, 2018
Wonderful!!

My wife and I stayed four nights at the whale's cove house and loved it!! The view of the ocean was great, the neighborhood quiet, & the beach was hardly ever occupied by anyone else.
The house was very well stocked with bathroom and kitchen supplies, and there were even extra things like kites, board games, children's toys, Bluetooth speakers and more.
The downstairs bedroom is small but very cute, and the upstairs bedroom is more roomy with a closet for more storage.
The entire house is older, but a cute, character-filled type of old, and it has been kept nice and clean, so we had no complaints. The only slight drawback was the beach access. It was fine for us and we used it every day, but it is a steep, rocky, path that could be difficult for the elderly, or small children.
We would stay here again in a heartbeat (and plan to)! The surrounding area was beautiful with a nice little town with a grocery store and a couple restaurants (best Chinese food we've ever had!). Thank you for a great vacation, we didn't want to leave!!
Matt R. April, 2018
Nice little cottage with direct access to the beach. You can't see the ocean but it's just a short walk down a rocky trail to get to the beach sitting on the Alsea bay. Would recommend for a small family getaway.
Don B. December, 2017
We had a great time at the Whales Cove. The weather was typical Oregon Coast weather - rainy, windy, drizzly, sunny, sometimes all in the same hour. But it created some nice wave action, great walks on the beach, and some good indoor down time.

The house is small, but it has everything needed in it. Sweet Homes manages the property, and they were attentive to details. The DVD player had the wrong remote, and they fixed the problem so we could watch movies our last night there.
The beach access is right next to the house. It is a draw, and it is not recommended for anyone with mobility issues. There are other beach access points not too far away if the rocks are daunting.
There is a hard bed downstairs, and a soft bed upstairs, so you have choices. The little bed upstairs is not very comfortable; the futon makes for a better bed than the little one in the bedroom.
They have kites, which we used, and dog accessories for your four legged friend. And the washer and dryer are well sized.
Overall, I give the place two thumbs up. It provided a nice place to have some downtime and relax. I highly recommend it.
Terrie J., November, 2017
Quaint Guest Cottage with Beach Access. Rented for my daughter and her family while vacationing on the coast. They loved the quiet, easy access to the ocean, their own space, the fireplace, a full kitchen and the access to laundry. They will return! Meeting with the managers prior to their arrival was helpful and appreciate them accommodating our schedule. We will use the cottage again!

Susan M. June 24th, 2017
We absolutely loved our long weekend at The Whale's Cove. The cottage is very charming and comfortable. We arrived after dark and were pleased to find the lights on and peaceful music playing when we entered the house - very welcoming. The kitchen is roomy and very well appointed with dishes and utensils. The beds are comfortable and have fluffy comforters. The house is just a few yards away from the path to the beach. There are big windows in the main living area with a view of the ocean. The art in the house is lovely and adds to the overall ambiance. I would like to know who the artist is that painted all the whales, I'd love to be able to purchase a piece. We would definitely stay here again in the winter. I would consider it in warmer months, however, there is no porch or deck or outside seating.
N.G. Eugene, Oregon January 18, 2017
Clean cute cottage. We enjoyed our thanks giving and the firewood provided. Nice beach right at the mouth of the Alsea river.
Kyle December 3, 2016
This is a cozy house one row back from the beach with access down to the water right across the street. It reminded me of the places we stayed when I was a kid. Not super fancy, but all the necessities with one exception that didn't bother me, but might be important to others. It didn't have a dishwasher. It does have wi-fi and some sort of gaming system upstairs which wasn't important to me, but might be if you have kids.
E Leon June 6, 2016
The cottage was nicely appointed and fit our family of three perfectly! Just a short walk from the beach. A quiet relaxing getaway with all the amenities of home. We loved the games collection!!!
Katie April 5, 2016
Very cozy and enjoyable. Short walk to the beach. The fireplace is spectacular so bring your firewood. A comfortable king sized bed has been added upstairs so that was a nice surprise.
Lori112 March 8, 2016
Amenities
Dog Friendly
Gas BBQ Grill
Free WiFi
Well Stocked Kitchen
Short Walk to a Sandy Beach
HD Flatscreen TV's
Washer & Dryer

The home has a comfortable living and dining area.
Casual, yet stylish, Whale's Cove has oceans of charm.
A table with a view.
You will love this little beach getaway! (Fireplace is non-functioning)
Queen size comfort in the contemporary bedroom.
Curl up in this cozy room for the night.
With free Wi-Fi, satellite TV, and an assortment of games and books, this home offers lots of amenities.
3/4 bath on the first floor
Galley kitchen, clean and easy, with ample cabinet space.
Quaint dining space perfect for morning coffee and breakfast.
Galley kitchen is conveniently located right off the living area.
Large stainless steel sink and butcher block counter top.
Stainless steel appliances perfect for gourmet cooking.
TV room with a full size futon. and flat-screen TV.
Curl up in this bright and comfy futon.
Another bedroom with a queen bed and a twin bed.
Queen-sized comfort in the bedroom.
Great sleeping space upstairs.
A separate laundry for your convenience.
The Whales Cove, great spot for good times.
Cozy, friendly getaway for your Oregon coast vacation.
Perched close to where the bay meets the ocean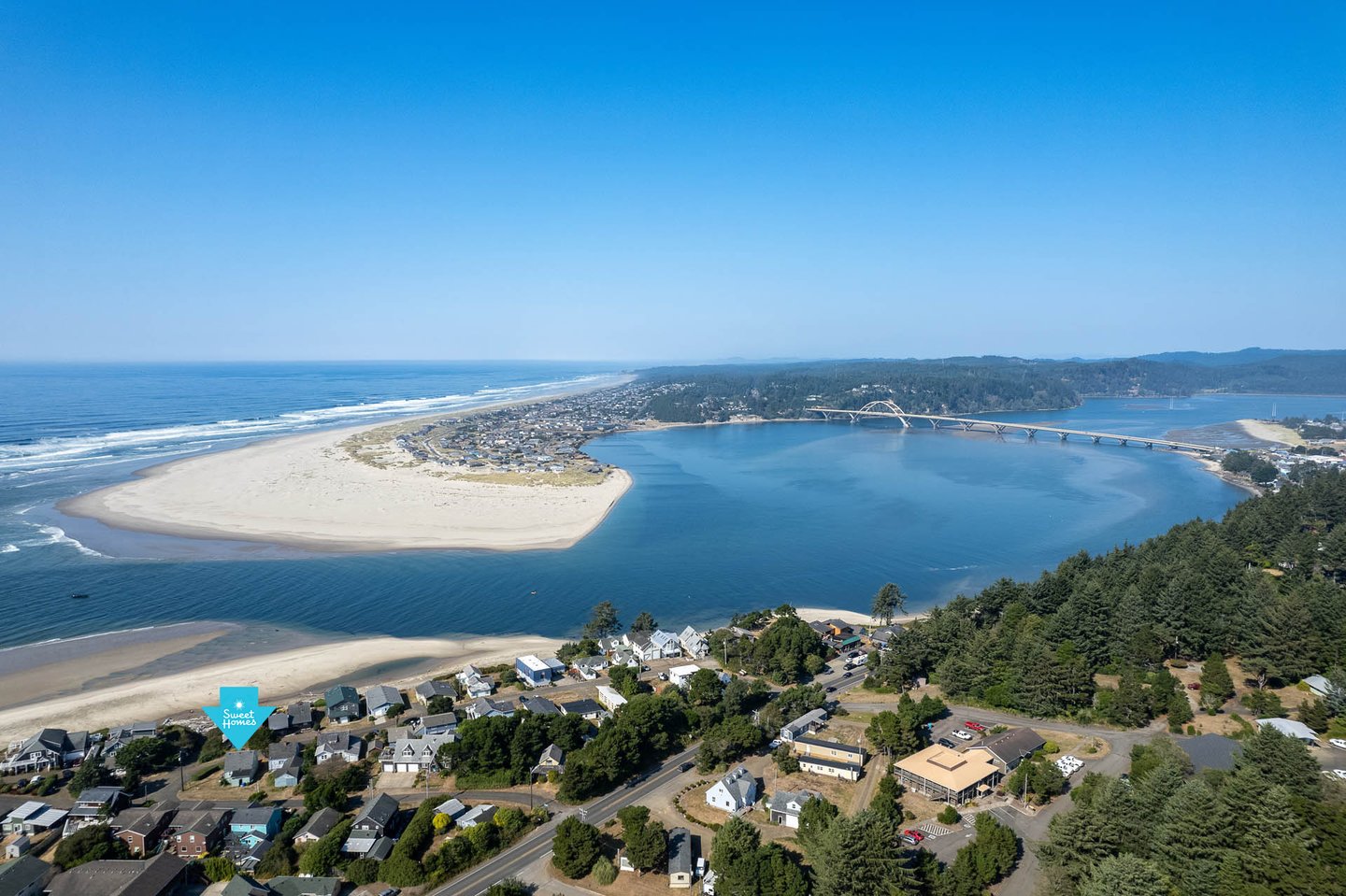 Natural beauty surrounds this coastal charmer
Watch seabirds soar as tides ebb and flow
Visit Alsea Bay and take a kayak ride or walk the shore.
Floor plan