Tidal Destination
Tidal Destination
6417 NW Finisterre
Yachats
3 bedrooms
2 baths
Sleeps up to 6
Dog Friendly
$195 - $945/Night
Tidal Destination is the perfect getaway with natural light, soft tones, clean aesthetic that evokes the breeziness of the beach. This playful and relaxed home sleeps up to 6, with 3 bedrooms and 2 baths and plenty of space to put your feet up and unwind! Celebrate all of the natural light that this home has to offer in the open concept living/dining area with the vaulted ceiling, open loft, and wonderful ocean views from both floors. Curl up with a good book or just enjoy the peaceful surroundings in front of the gas fireplace during a winter storm or quiet evening. Tidal Destination has a master bedroom with a king bed on the main floor with a bath across the hall. Upstairs in the open loft are two more bedrooms with colorful barn doors and a shared bath between. Slide open the barn doors to enjoy ocean views from bed or close them off for privacy. The loft also boasts stunning ocean views with two separate sitting areas along with a shuffleboard game for a little added fun!

The back deck stretches across the house for you to enjoy sweeping ocean views and sunsets year-round. Relax in the ocean view hot tub after a day of exploring the miles of sandy beach or the many forest trails that the Oregon Coast has to offer! There is a nice fenced front yard to romp, play and enjoy the fresh air! The path to the beach is right next to the house, which gives you easy access to the sand, surf and shell and agate collecting.


Sleeps up to 6 - 3 Bedrooms, 1 King & 2 Queens, 1 Queen Sleeper Sofa, 2 baths
Vehicles: Licensed for 3 (strictly enforced)
Standard: 2 night minimum; Summer & Holidays: 3-4 night minimum.
*Each home is individually owned. Amenities and furnishings are subject to change at any time. Please contact our office with any questions.
Tidal Destination
Questions?
Rates
| Season | Period | Min. Stay | Nightly Rate |
| --- | --- | --- | --- |
| September 2023 | 09/05/2023 to 09/30/2023 | 2 | $330.00 to $438.00 |
| October 2023 | 10/01/2023 to 10/05/2023 | 2 | $210.00 to $269.00 |
| Columbus Day Weekend 2023 | 10/06/2023 to 10/09/2023 | 3 | $296.00 |
| October 2023 | 10/10/2023 to 10/11/2023 | 2 | $210.00 to $269.00 |
| Annular Eclipse 2023 | 10/12/2023 to 10/15/2023 | 3 | $340.00 |
| October 2023 | 10/16/2023 to 10/19/2023 | 2 | $210.00 to $269.00 |
| Yachats Mushroom Festival 2023 | 10/20/2023 to 10/22/2023 | 2 | $280.00 |
| October 2023 | 10/23/2023 to 10/31/2023 | 2 | $210.00 to $269.00 |
| November 2023 | 11/01/2023 to 11/21/2023 | 2 | $225.00 to $275.00 |
| Thanksgiving Weekend 2023 | 11/22/2023 to 11/26/2023 | 4 | $550.00 |
| November 2023 | 11/27/2023 to 11/30/2023 | 2 | $225.00 to $275.00 |
| December 2023 | 12/01/2023 to 12/14/2023 | 2 | $225.00 to $300.00 |
| Holiday I 2023 | 12/15/2023 to 12/25/2023 | 4 | $450.00 |
| Holiday II 2023 | 12/26/2023 to 01/01/2024 | 4 | $425.00 |
| January 2024 | 01/02/2024 to 01/10/2024 | 2 | $195.00 to $250.00 |
| MLK Holiday 2024 | 01/11/2024 to 01/15/2024 | 3 | $275.00 |
| January 2024 | 01/16/2024 to 01/31/2024 | 2 | $195.00 to $250.00 |
| February 2024 | 02/01/2024 to 02/14/2024 | 2 | $195.00 to $250.00 |
| Presidents Day 2024 | 02/15/2024 to 02/19/2024 | 3 | $250.00 |
| February 2024 | 02/20/2024 to 02/21/2024 | 2 | $195.00 to $250.00 |
| Seafood & Wine Festival 2024 | 02/22/2024 to 02/25/2024 | 3 | $400.00 |
| February 2024 | 02/26/2024 to 02/29/2024 | 2 | $195.00 to $250.00 |
| March 2024 | 03/01/2024 to 03/21/2024 | 2 | $195.00 to $275.00 |
| Spring Break 2024 | 03/22/2024 to 04/07/2024 | 3 | $431.00 to $562.00 |
| April 2024 | 04/08/2024 to 04/30/2024 | 2 | $234.00 to $330.00 |
| May 2024 | 05/01/2024 to 05/23/2024 | 2 | $225.00 to $275.00 |
| Memorial Day Weekend 2024 | 05/24/2024 to 05/27/2024 | 3 | $395.00 |
| May 2024 | 05/28/2024 to 05/31/2024 | 2 | $225.00 to $275.00 |
| June 2024 | 06/01/2024 to 06/30/2024 | 3 | $406.00 to $500.00 |
| July 2024 | 07/01/2024 to 07/01/2024 | 3 | $693.00 to $805.00 |
| July 4th Holiday | 07/02/2024 to 07/07/2024 | 4 | $945.00 |
| July 2024 | 07/08/2024 to 07/31/2024 | 3 | $693.00 to $805.00 |
| August 2024 | 08/01/2024 to 08/29/2024 | 3 | $648.00 to $776.00 |
| Labor Day Weekend 2024 | 08/30/2024 to 09/30/2024 | 3 | $735.00 |
| October 2024 | 10/01/2024 to 10/10/2024 | 2 | $263.00 to $337.00 |
| Columbus Day Weekend 2024 | 10/11/2024 to 10/14/2024 | 3 | $371.00 |
| October 2024 | 10/15/2024 to 10/17/2024 | 2 | $263.00 to $337.00 |
| Yachats Mushroom Festival 2024 | 10/18/2024 to 10/20/2024 | 2 | $371.00 |
| October 2024 | 10/21/2024 to 10/31/2024 | 2 | $263.00 to $337.00 |
| November 2024 | 11/01/2024 to 11/26/2024 | 2 | $243.00 to $312.00 |
| Thanksgiving Weekend 2024 | 11/27/2024 to 11/30/2024 | 4 | $687.00 |
| December 2024 | 12/01/2024 to 12/19/2024 | 2 | $225.00 to $300.00 |
| Holiday I 2024 | 12/20/2024 to 12/26/2024 | 4 | $562.00 |
| Holiday II 2024 | 12/27/2024 to 01/02/2025 | 4 | $531.00 |
Reviews
Guest Reviews
---
This home is an amazing home on the coast. We went after the high season and were treated to complete privacy on the beach. The views are stunning both outside and from inside the house. Although you are in a remote section of the coast, you are minutes away from great restaurants and stunning scenery. The house is well appointed and gives you glorious views of the sunset from inside house as well as outside. We were blessed with amazing sunsets from the hot tub and uninterrupted quiet time when we were chilling in the house. The hosts are communicative without being obtrusive and checked in a few times during our stay to make sure everything was to our liking. A highly recommended stay for your next trip to the coast.
Frank , September 2023
---
We had a great time listening to the waves and watching the sunset from one of the many comfy locations within the house. The placement of the hot tub couldn't be better. Definitely recommend this house for people looking to relax, unwind and enjoy the beach/ocean.
Hillary , August 2023
---
My family and I had an amazing time. The home is beautiful and wonderfully located. A slight issue with the lock was handled in a very quick time. Thank you for having us! Look forward to more visits.
Naome , June 2023
---
We loved this house. The best views, perfect for our dogs, well stocked kitchen for making homemade meals and all the games were a treat. We will rent this place again next year!
Dana , May 2023
---
This beach house was a great stay. We had a wonderful weekend with friends and the dogs. Location is right on the beach with a great view of the water. House was very clean and had the essentials. We did a lot of cooking over the weekend and the kitchen had every thing needed to prepare fantastic meals. The only surprise we encounter was the beach access was a few steps down a ravine and could be a little tricky to navigate when wet. The beach was great to let the doggos run and play. Plenty of space on the beach with few people. We also greatly enjoyed the shuffle board. Overall the house and property were great and we had a fantastic time! We will definitely be looking to book this location again!
Jerred , May 2023
---
Perfect!! The most comfortable beds I've ever had on vacation. The best stocked kitchen I've ever seen! They had everything you could ever hope for. It didn't feel like a rental, it get like your super classy grandparents let you borrow their house while they were away. The quality was top notch.
Sarah , April 2023
---
The location was outstanding, right on the ocean and perfect for hot tubbing and beach walks. We are just a few minutes out of town for restaurants, though the Was really well stocked and set up for home cooked meals which we had planned on. Overall, the space was great for our group (three couples and two dogs), and we would definitely stay there again!
Whitney , January 2023
---
Absolutely perfect In all respects, already planning a trip to where we can stay again
Thomas , December 2022
---
What a wonderful home ! Our stay as perfect! Thank you!
Geri , August 2022
---
We enjoyed this perfect beach house that had something for everyone, pleasing all 3 generations. We have always stayed close to town where there are dramatic waves hitting the rocks. Loved the serenity of the empty beach and the mesmerizing surf. This is a lovely , well-equipped beach house. Thank you! ,
Kathy , May 2022
---
This was an amazing house. It was warm and welcoming and had everything you need to make yourself feel at home. The kitchen was well stocked with all the tools, dishes, pots and pans you need to make any sort of meal. The view was amazing. It made the one stormy day enjoyable! We could stay warm and dry but still enjoy the beach! We are already talking about out next trip and coming back to this house! It was great and highly recommend.
Stephanie , May 2022
I'm pretty much repeating what others have said. This home is lovely and the communication with the rental company was flawless and quick. The house was clean, very well stocked (amazingly so), had plenty of games and a shuffleboard, and plenty of extra towels and other essentials. And the view....amazing. I have pretty high expectations of vacation rentals and this home definitely tops the list. I would highly recommend and would stay here again and again.

Annie, May 2022
Second time staying in this home and it was just as delightful as the first. Weather wasn't great but the house makes for a good place to watch a storm roll by or enjoy the hot tub when it is cold out.

Caleb, May 2022
Gorgeous view. This house is on a small bluff overlooking the sand. Literally at the beach. Wonderful hot tub. 2 sitting areas upstairs to stare at the waves and daydream. Very well appointed kitchen including large pot for your clams or crab feast. My dad and I absolutely loved our stay in the fantastic home.

Brett, March 2022
Beautiful home! Amazing views, even in the pouring rain. Really nice relaxing check in. Great small yard for our dogs, nice quiet neighborhood.

Jeanna, February 2022
this place was amazing.

Zachariah, February 2022
Great location and the perfect house for a quiet getaway right on the beach.

Dave, January 2022
This house was absolutely perfect for us. It was very clean, spacious and has the best views of the ocean. The upstairs is so cozy and the shuffleboard was a fun way to spend a rainy afternoon. The hot tub was amazing. We will most definitely stay here again.

Stacy, January 2022
This is a wonderful BnB. It's on the pricey side but is well worth it. The house looks exactly like the pictures, the beach is superb, hot tub hot and house super clean. It might be the nicest place I have stayed. The attention to detail was amazing as the house was so fully stocked. Spices, Tupperware, all sorts of pots and pans and plenty of dishes. It made spending Christmas so much easier when we wouldn't have been able to run out and by things with the stores closed. Highly recommend!

Vanessa, December 2021
Super well stocked kitchen. This place was amazing!

Molley, December 2021
My wife and I had a fantastic honeymoon in this house! The view over the Pacific is perfect. Plenty of room to sleep 6+. The kitchen had all the items we needed to cook a few dinners, including a large pot for a crab boil. The weather did not let us use the grill but it would have been perfect. Hot tub was as advertised and worked great. Fenced in front yard was perfect for our dogs. Downtown Yachats is an awesome coastal town with friendly people. Would love to come back and stay in this home again.

Caleb, December 2021
This location was amazing and the house was just as described. We enjoyed ourselves so much and want to come back!!

Kristin, November 2021
The trip of a lifetime! Even though there was a huge storm during our stay, there were no complaints. The house was clean, check in was easy and the hot tub was awesome, especially since it had a view to either the ocean or the tv...your choice. :) Great place!

Jason, October 2021
We loved this place! This was our honeymoon trip and this home made it so special. This place is even better than the pictures. We loved the view and privacy this home offered. This review is so tough to write because we don't want too many people booking this place ;) We are already thinking about when we can visit this home again! :) Thank you to the Sweet Home team for the professionalism and great communication!

Beau, September 2021
Perfect stay. This was the cleanest houses we have stayed at. All of the kitchen utensils, cookware, etc were of a high quality. Wonderful location right on the beach. Open the back door and smell and hear the wonderful Oregon beach.

Dave, September 2021
Great experience! Well appointed house with expansive ocean views. The kitchen was well stocked and the living room was perfectly comfortable for games evening by the gas fire. So many games and toys for our kids + beach access for ample beach time. Would stay again!
Jacque, August 2021
Excellent rental home with all desires met. Beautiful beach, friendly town.
Anonymous, August 2021
This house is perfectly located on the beach and is roomy and comfortable. We really enjoyed our stay.
Angela, July 2021
Nothing bad to say about this place. Has a super well-stocked kitchen with everything being clean, tidy, and labeled. The view is the best you'll get anywhere and they aren't lying when they say they're right on the beach. Every morning we would take a walk along the ocean. This place was fantastic.
Alison, May 2021
This house is a very special place/design/location. We stayed for the weekend, but want to come back for a week. If you have a dog, they thought of everything. No city lights for stay gazing from the hot tub. Wake up and watch the waves crash from bed. The kitchen has all you need for cooking. We really loved our stay here.
Greg, April 2021
Everything you could want in a beach getaway - this place checks all the boxes!
Jared, February 2021
Amenities are amazing and it's right on a low-traffic beach. We loved it, the dogs loved it. It was an incredible stay!
Alessandra, February 2021
Great spot on the beach. Loved that the home was dog friendly, especially a fenced in front yard. Many games played and enjoyed the fireplace. We had great weather and enjoyed they proximity to Yachats and Newport.
Sarah, January 2021
Perfect location, clean space, and a hot tub with a view - what more could you want?! 10/10 will be booking again!
Laurie. November, 2020
Amenities
Dog Friendly
Gas BBQ Grill
Ocean View Deck
Free WiFi
Gas Fireplace
Hot Tub
Ocean Front - Sandy Beach
HD Flatscreen TV's
Washer & Dryer
(Fenced Yard|Free Cable or Satellite Television|New Furnishings|Oceanfront Deck|Air Conditioner)

Ocean front hot tub, deck and cool decor inside make this house fabulous!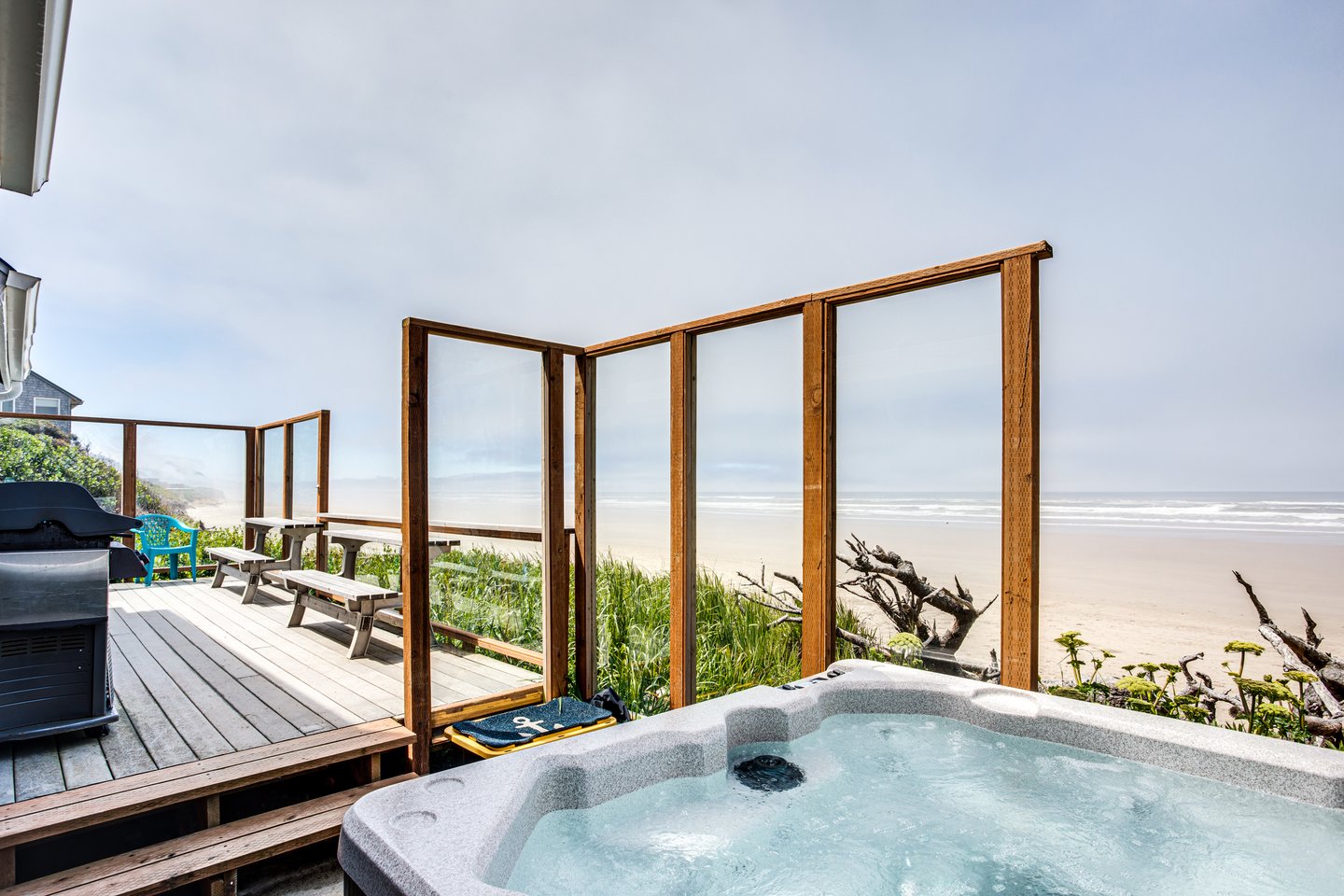 The natural light warms up the wood architecture of the home.
Relax by the fireplace with a glass of wine or a good book.
An open second-story makes the home feel even bigger.
Plenty of space in the living room for the whole family.
Big windows let in light and views.
An open concept and lots of windows make the home warm and inviting.
Dine with a view of the ocean or open up the door to hear the waves.
Plenty of counter space for meal prep.
Cook up some local seafood in the open kitchen!
Enjoy breakfast before you explore the coast.
Enter into the warm kitchen with lots of natural light.
All new stainless steel appliances are perfect for the family chef.
Gather the family at the dining room table!
The master bedroom with king bed.
Curl up in the main floor bedroom.
Watch a movie or listen to the ocean while you fall asleep.
A full bathroom downstairs.
Plenty of room to share the downstairs bath.
The upstairs open loft has two sitting areas and two bedrooms!
Grab a game to play upstairs.
Enjoy chess with an ocean view.
Nothing wrong with a little friendly competition with a view.
Large barn doors add a pop of color upstairs!
One of the cozy upstairs bedrooms with a queen bed.
Watch a favorite movie late at night.
Read a book while you curl up in bed.
There is plenty of space to find some peace and quiet!
Another loft sitting area for extra space.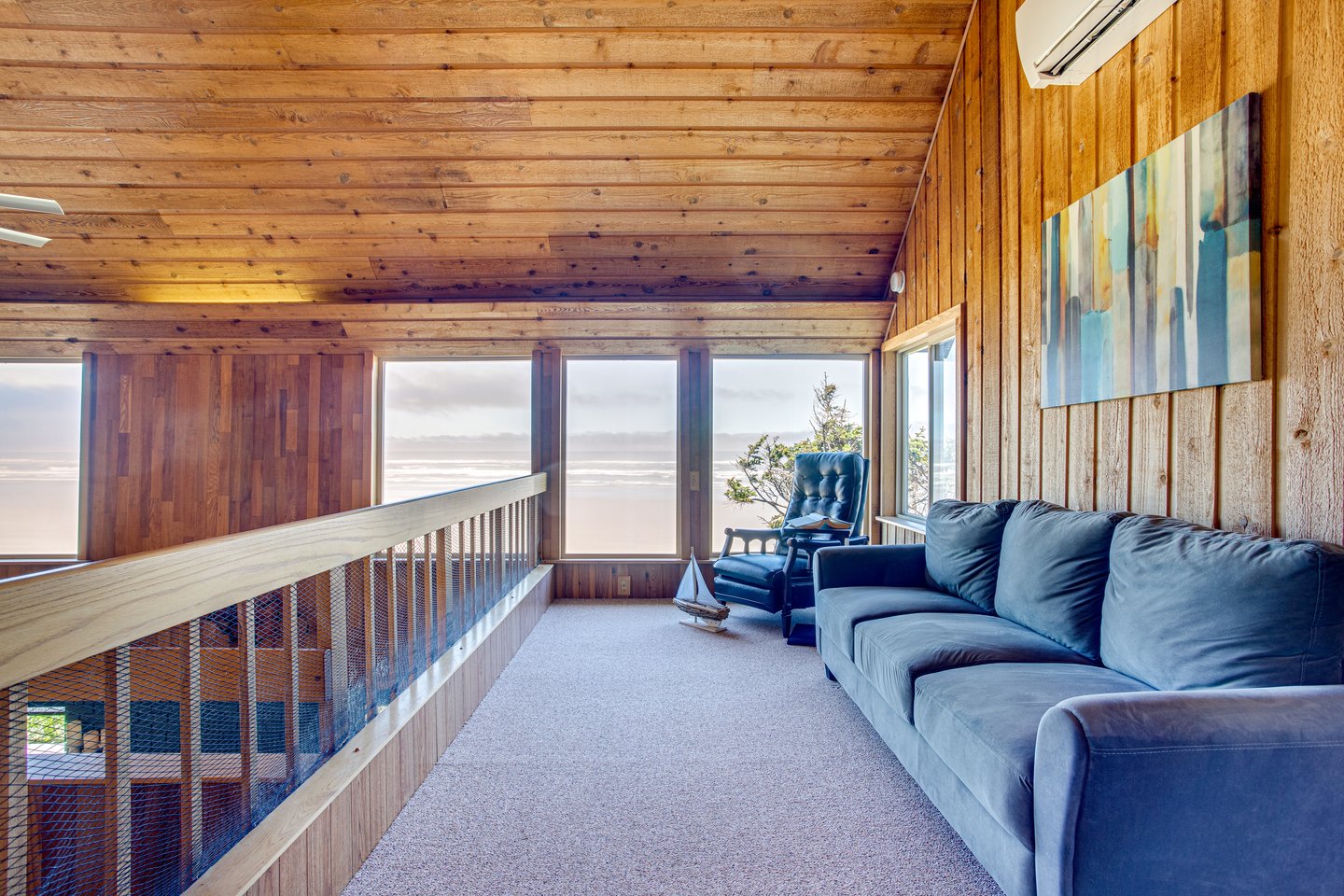 Sit and watch the waves and weather.
Enjoy the open loft areas upstairs.
Beautiful barn doors close off both upstairs bedrooms.
The second bedroom upstairs with a queen bed.
Watch a little late night tv.
Your inner fisherman will love this room.
The bathroom upstairs is shared by both bedrooms.
Plenty of room to get ready for your day in the second bathroom.
There is even a shuffleboard game to play!
Enjoy a game of shuffleboard upstairs.
Sit on the deck and watch the seagulls fly by.
Nothing like relaxing in the hot tub after a day on the beach.
The ocean view hot tub is sure to please!
Relax in the hot tub after a long day of exploring.
Sit on the protected deck to enjoy the ocean moods.
Stay Relaxed outside on the front porch.
Welcome to you Sweet Home!
Access your back deck right from the driveway.
Welcome to Tidal Destinations! Get ready to enjoy your home with a fenced-in front yard.
Perched on a small bluff, the views are from both floors!