Tiny Tranquility Tiny Homes
At Tiny Tranquility, we prioritize spaciousness and offer a multitude of opportunities for you to relax and stretch your legs. Our well-appointed common areas provide the perfect setting to unwind, socialize, and enjoy breathtaking ocean views from the comfort of indoor spaces. With a diverse range of amenities at your disposal, including a generous 2,400 square foot lodge, a TV room, a newly built second common area with a great room with an ocean view, a BBQ area, two bonfire pits, a community garden, and a fitness area equipped with commercial-grade fitness equipment, we ensure that every aspect of your stay is filled with comfort, convenience, and delightful experiences.
---
Dog Park
The Dog Park at Tiny Tranquility is a haven for our furry friends. It's spacious 5,500 square foot area is a secure area where dogs can run, play, and socialize with other four-legged companions. Whether your pup loves chasing balls, sniffing around, or simply lounging in the grass, the dog park provides a safe and enjoyable space for all dogs to enjoy.
---
Greenhouse
This large 12,000 square foot space is the park's community garden and a haven for nature enthusiasts and plant lovers alike. Step into this oasis of greenery and be surrounded by a wide variety of exotic plants, vibrant flowers, and a bounty of herbs and vegetables. The greenhouse is designed to provide the perfect environment for plants to thrive, creating a serene and calming atmosphere. Take a leisurely stroll through the pathways and marvel at the unique species.
---
Outdoor activity Area
Nestled on the grassy southernmost acre of the park, with a breathtaking view of a magnificent Osprey nest reminiscent of a prehistoric dinosaur, lies a haven for outdoor enthusiasts at Tiny Tranquility. This picturesque spot offers a plethora of opportunities for outdoor activities, from leisurely picnicking to lively soccer matches. And as the sun begins to set, gather around our thoughtfully designed outdoor fire pits, perfect for roasting marshmallows and creating unforgettable memories. And picnic tables will be added soon!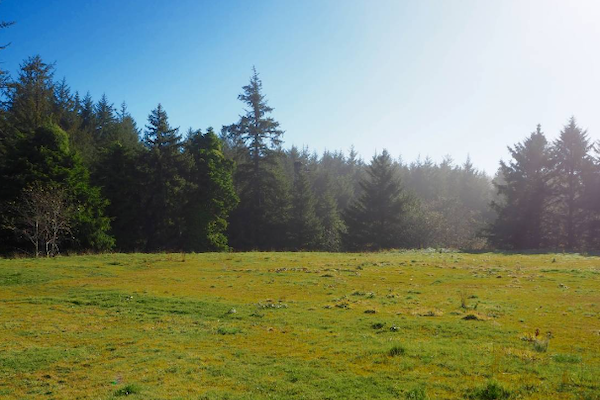 ---
The Doug Fir Lodge
The Doug Fir Lodge at Tiny Tranquility is a spacious 2400 sq ft community haven, offering a range of amenities for relaxation and entertainment. Step inside and be welcomed by the cozy living room, complete with a wood stove that adds warmth and ambiance to the space. Enjoy friendly games of ping pong and pool, unwind in the comfortable living room with a 65" flat-screen TV, and gather for meals in the covered eating and grilling area. As the evening sets in, cozy up around the fire pit and seating area. The Doug Fir Lodge provides the perfect space for connecting, unwinding, and making lasting memories.
---
The Redwood Commons
Experience the captivating Redwood Commons! Take in the ocean views from the spacious second-floor deck and enjoy the versatile great room, perfect for small group gatherings. Complete with a full kitchen, fireplace, and comfortable seating area, the Redwood Commons provides a remarkable space to socialize at happy hour and take in a beautiful sunset over the pacific ocean. Accessibility is prioritized with a first-floor full bathroom featuring an ADA shower and an ADA lift. Discover a haven for memorable moments at Redwood Commons.
---
Walk to the Beach
Discover the coastal charm of Tiny Tranquility as you embark on a short walk to a beautiful sandy beach. Let the soft sand tickle your toes, relish in the soothing sound of the waves, and bask in the sun's warm embrace. Whether you're seeking a tranquil escape or an exhilarating beach adventure, our close proximity to the sandy shores ensures that the joys of coastal living are always within reach.