Casa Del Mar
Casa Del Mar
6822 NW Finisterre Avenue
Yachats
3 bedrooms
2 baths
Sleeps up to 7
Dog Friendly
$125 - $607/Night
This gorgeous, two story, cedar shingle home is an idyllic ocean side retreat. Sitting on a bluff overlooking the mighty Pacific Ocean, the Casa del Mar property is just across the street from easy to navigate steps leading down to miles of beautiful sandy beach. This is a perfect destination for a romantic getaway, but it is also a lovely choice for up to 7 guests. The Casa del Mar is a beautifully appointed, bright and airy home. With stunning ocean views out most of the windows, you'll enjoy the sights, the sounds, and the fresh, salty smell of the sea.

This home is full of small comforts and delightful amenities. The white kitchen has splashes of color and art glass lighting, a wall full of windows providing ample natural lighting, all the fundamental appliances, utensils, cookware, and dishes you'll need, and a cookbook collection, too!
There are three lovely and comfortable bedrooms in Casa del Mar, the master with a King bed and one with a Queen bed and another with a Queen size bed and a Twin bed, all with crisp, clean, boutique hotel quality bedding. Two bedrooms are on the ground floor of the home. There is a full bathroom with a tub and shower on this floor, too. Upstairs you'll find a nice surprise: the entire 2nd story of this home is a stunning master suite. With a king sized bed, high ceilings, lush carpeting, a seating area...it's hard to imagine needing anything else. But this very special suite also has an enclosed sunroom looking out to the Pacific for your relaxation. It's a perfect place for morning coffee or a sunset champagne toast. The attached master bathroom has double sinks, a claw foot tub, a walk-in shower, and lots of windows and natural light. You'll enjoy this master suite morning and night!
Casa del Mar has lots of other amenities for guests to enjoy. There's a washer and dryer, free WiFi, cable TV, a DVD player and movies, and so much more! There's outdoor seating on the first floor deck, as well as a gas barbeque.

When the surf and sand beckon, you have easy access via concrete stairs that take you right down to the sandy beach. From there you can walk for miles and miles in either direction, jog on the beach, fly a kite, hunt for seaside treasures, or just relax under the sun or stars. You'll love this home, the beautiful beach it sits on, and its quiet and friendly little neighborhood just 3.5 miles North of Yachats. Casa del Mar is a perfect place for a romantic vacation by the sea, but it also sleeps up to 7 guests if you're traveling with family or friends.
Dogs are welcome on the main floor of Casa del Mar and will love to frolic at the beach!

Sleeps up to 7 - 3 Bedrooms. 1 King, 2 Queens, 1 Twin, and 2 baths.
Vehicles: Licensed for 3 (Strictly enforced- No street parking allowed)
Standard: 2 night minimum; Mid-Season: 3 night minimum; Summer & Holidays: 3-4 night minimum.
Rates
| Season | Period | Min. Stay | Nightly Rate |
| --- | --- | --- | --- |
| September 2022 | 09/01/2022 to 09/30/2022 | 2 | $175.00 to $250.00 |
| Labor Day Weekend 2022 | 09/02/2022 to 09/05/2022 | 3 | $425.00 |
| October 2022 | 10/01/2022 to 10/31/2022 | 2 | $125.00 to $150.00 |
| Columbus Day Weekend 2022 | 10/07/2022 to 10/09/2022 | 3 | $175.00 |
| Yachats Mushroom Festival 2022 | 10/13/2022 to 10/16/2022 | 3 | $175.00 |
| November 2022 | 11/01/2022 to 11/30/2022 | 2 | $125.00 to $150.00 |
| Thanksgiving Weekend 2022 | 11/23/2022 to 11/27/2022 | 2 | $425.00 |
| December 2022 | 12/01/2022 to 12/15/2022 | 2 | $175.00 to $250.00 |
| Holiday I 2022 | 12/16/2022 to 12/26/2022 | 4 | $375.00 |
| Holiday II 2022 | 12/27/2022 to 01/02/2023 | 4 | $325.00 |
| January 2023 | 01/03/2023 to 01/31/2023 | 2 | $125.00 to $150.00 |
| MLK Holiday 2023 | 01/13/2023 to 01/15/2023 | 3 | $175.00 |
| February 2023 | 02/01/2023 to 02/28/2023 | 2 | $125.00 to $150.00 |
| Seafood & Wine Festival 2023 | 02/22/2023 to 02/26/2023 | 3 | $200.00 |
| March 2023 | 03/01/2023 to 03/16/2023 | 2 | $150.00 to $175.00 |
| Spring Break 2023 | 03/17/2023 to 04/10/2023 | 4 | $324.00 to $385.00 |
| April 2023 | 04/11/2023 to 04/30/2023 | 2 | $148.00 to $170.00 |
| May 2023 | 05/01/2023 to 05/31/2023 | 2 | $180.00 to $210.00 |
| Memorial Day Weekend 2023 | 05/25/2023 to 05/28/2023 | 3 | $270.00 |
| June First Half 2023 | 06/01/2023 to 06/15/2023 | 3 | $247.00 to $324.00 |
| June Second Half 2023 | 06/16/2023 to 06/29/2023 | 3 | $300.00 to $390.00 |
| 4th July Weekend | 06/30/2023 to 07/05/2023 | 4 | $607.00 |
| July 2023 | 07/06/2023 to 07/31/2023 | 3 | $398.00 to $506.00 |
| August 2023 | 08/01/2023 to 08/31/2023 | 3 | $438.00 to $573.00 |
| Labor Day Weekend 2023 | 09/01/2023 to 09/30/2023 | 3 | $573.00 |
| October 2023 | 10/01/2023 to 10/31/2023 | 2 | $187.00 to $218.00 |
| Columbus Day Weekend 2023 | 10/06/2023 to 10/09/2023 | 3 | $281.00 |
| Yachats Mushroom Festival /Annular Eclipse 2023 | 10/12/2023 to 10/16/2023 | 3 | $295.00 |
| November 2023 | 11/01/2023 to 11/30/2023 | 2 | $168.00 to $202.00 |
| Thanksgiving Weekend 2023 | 11/22/2023 to 11/26/2023 | 3 | $573.00 |
Reviews
Guest Reviews
---
Wonderful place to stay with easy beach access! Our kids loved it and the yard was nice too. Plenty of space for our families. Thank you - would love to return.
Kelli , August 2022
---
Sweet homes was very easy and great to work with, answered all my questions and made are stay very enjoyable. Thank you!
Shawne , August 2022
---
The house was absolutely beautiful, and the beach was right across from us. We had a great time. Thank you for everything!!!
Brenda , June 2022
---
Nice, cozy home. Beautiful views.
Jared , May 2022
---
Thanks for the great place to stay. It's great home in a great location!
James , May 2022
---
We had a great time with our family here for a 3-day weekend. It was just the right space for us and a great location with a beautiful view. The weather decided to bring us a strong rainstorm for a whole day and I'm glad the house was comfortable for us to all hunker down in. Additionally glad we could watch the stormy ocean from inside.
Stephanie , May 2022
Great cozy place with wonderful views. It had a nice kitchen and 3 great bedrooms. Plenty of hot water and a great laundry room to leave wet jackets and boots.
Kathryn, May 2022
Casa Del Mar was an amazing home! Great location steps away from the beach. The house was beautifully decorated and at the same time very cozy! It had everything a person needs and was very clean upon our arrival. We'd definitely recommend renting this home and we would love to rent again if we are in the area. We were here with two of our adult daughters, a grandson and a dog.
MaryKaye, April 2022
Amazing place!
Mark, March 2022
beautiful home, great location, the host was very responsive!
Ryan, March 2022
The house had everything we needed to be comfortable. We enjoyed our stay.
Daniella, December 2021
Great location! Easy company to deal with. Clean house.
Talya, November 2021
Location can't be beat. Directly across from a beautiful beach and right in between Waldport and Yachats. Amazing views from the master bedroom. The house itself is a little funky and outdated, but is very clean, comfortable and has everything you'll need. Check in and out is very easy.
Mike, October 2021
This the perfect beach house for a couple or a family with a large kitchen, dining & living are & a complete master suite upstairs with amazing views of the ocean!
Claire, October 2021
Watched the sunset on the water while lying in bed. Upstairs is so impressive I felt obligated to stay in it and not come downstairs. Very nice kitchen too. Big screen TB is a good thing, but there are so many remotes it was daunting trying to figure out which ones we needed to use. They should be labeled. Wi-Fi was not working when we checked in, this was quickly remedied by texting owner. Overall, excellent house near the beach!
Rob, September 2021
Very nice location and easy to get to the beach. Close in many fun travel spots. Bedroom view is AWESOME!
Heather November 2020
Great views of the ocean, master bedroom upstairs is a dream. Kitchen is well stocked, everything worked well, my family enjoyed the hot tub and we all, including our dog, loved walking and running on the endless sandy beach. During high tide the water covered the whole beach, including the bottom of the cement stairs leading down to it. Communications with Sweet Homes was prompt and thorough and the young man who checked us in was great. We will be back!"

Isa J. December 2018
Peace and quiet on the Central Oregon Coast
This home was beautiful! We loved our 4-night stay in Yachats. We enjoyed beach walks, the cute little town of Yachats itself, and the home was centrally located to visit and explore the natural beauty of the Central Oregon Coast!
Mrudula August 2017
I hope to return!
We had a lovely stay. We celebrated my mother's birthday, my brother and his wife's 1st anniversary, and my husband and I's 9th anniversary. We really enjoyed the house, the town, and during sun breaks, the beach. The mushroom festival was super fun! Views were amazing. Decoration was appreciated.
Leslie
Quaint and Lovely Beach House
Through the years I've booked a number of vacation rentals, through multiple sites, all over our country for birthdays, weddings, holidays, getaways, and family events; this rental is by far my favorite. I also travel regularly for work, and can judge a bit harshly of hotels and rentals. This experience was so positive I can't help but share. Located a short drive or pleasant beach walk from the commerce and beauty of Yachats, this quaint and lovely beach house is at a dead end across from the beach, and afforded a sincerely unforgettable experience. My Mother's only request for her 60th birthday was to see the ocean and her two kids. I booked the house, my brother took leave from the Marines, and we spent a long weekend at the beach.
Setup: upon entry, there is a queen bedroom to the immediate right, the living room with chairs, couch and flat screen directly in front, the dining (6 person seating) and kitchen to the left. Past the full bathroom, a short hallway leads to the washer/dryer in the mudroom (extremely convenient after beach play, rain or shine), and the second bedroom which has a queen, twin, and additional television.
The upstairs bedroom is a masterful retreat: an undeniably desirable destination in itself. The wall facing the ocean is all windows, with multiple options for relaxing and enjoying the view: the bed, the sitting area (couch and chairs) in front of the bed, the nook off to the side with an additional couch, even the bathtub or stand-up shower in the master bathroom has the breathtaking view of the beach below.
I have booked enough vacation rentals to appreciate that not all owners understand the concept of providing certain necessities for a comfortable stay. Most travelers anticipate obvious items such as dishes and cooking utensils, coffee maker, alarm clock, towels, shoe racks, hangers, and after having several experiences of calling the owner to request similar items, I can say that I have genuine gratitude for a rental that feels like a home; where I can relax in knowing the pots and pans needed for my elegant seafood meal exist, and I won't be challenged to change my meal plans last minute due to rental shortcomings. It is worth noting that this house has everything you will require, as though it's anticipating your desires. The hot tub was very relaxing, there is ample parking and it's literally across from the beach.
We will be back!
Reyna - Portland, OR
This is a home with windowns and light! Beautiful!
I just had to write a review of this lovely home since we have stayed there numerous times.
The home is beautifully maintained with a shared stairway to the beach in front of the house. It's also at the end of a dead-in street, so it's quiet and private.
The master bedroom is the entire upstairs! It has lots of windows on all four walls which we open when we arrive and don't close again until we leave. In fact, the front wall to the ocean is windows from floor to ceiling. The ocean breeze and the views are wonderful from upstairs! The upstairs bathroom has a vintage claw foot tub and also a view of the ocean. It's a romantic bedroom, but also has good seating. My husband and I have spent quiet time reading and lounging upstairs, but have also invited our family upstairs for the sunset and whale watching.
The downstairs kitchen and living/dining room area is also light and open. It's tastefully furnished and full of windows with a tall vaulted ceiling.
The downstairs front bedroom has 3 large windows and is sweet and cozy.
The downstairs back bedroom is at the back of the house which makes it a better choice for anyone wanting less light and more quiet sleeping. It is also where our teenagers always go to watch movies, since it has a TV with a VCR and an assortment of movies to pick from (at least 50).
There is a great stereo system downstairs (with speakers upstairs) and a flat screen TV with On Demand and Netflix. Unlike the previous review, we get good cell service, but we have AT&T. We have heard that Verizon doesn't get good service in the Yachats area. The internet service and speed is fast.
This was our 4th stay at this house and we have already reserved for our 5th visit!
Irma, Porltnad Oregon
Perfection!
We loved our stay here. The location was great. No freeway noise, only the sound of the waves and there was miles of beach right outside. The house was the perfect size for the two of us and our two kids. Every bed was so soft and comfortable. The Netflix was nice for when we just wanted to relax and the hot tub was fantastic. The master bedroom and the view were incredible. We will definitely be back !
Will C.
Amenities
Dog Friendly
Gas BBQ Grill
Shared Private Beach Access
Free WiFi
Gas Fireplace
Well Stocked Kitchen
Short Walk to a Sandy Beach
HD Flatscreen TV's
Washer & Dryer
(Ocean View-Sandy Beach|Easy Beach Access - Nice Stairs|Fenced Yard|Master Suite|Claw Foot Tub)

Stunning ocean views out most of the windows.
This gorgeous, two story, cedar shingle home is an idyllic ocean-side retreat.
Stairway to the Beach
Colorful Dining, bright and airy.
Enjoy scenic ocean views throughout the first floor with ample natural lighting.
All the appliances, utensils, cookware, and dishes you'll need.
Modern appliances and a cookbook collection, too.
You'll enjoy the sights, the sounds, and the fresh, salty smell of the sea.
Second floor suite with room to relax and recharge
An enclosed sun-room looking out to the Pacific for your relaxation.
The sky, the beach, and the Sea.
The attached master bathroom has double sink vanity, a clawfoot tub, and shower.
Take a relaxing soak while watching the waves in this clawfoot tub in the master bathroom
Wake up in this cozy queen bedroom to sounds of the Pacific Ocean
Views in the second bedroom
Curl up in the queen bed or twin in this first floor bedroom for a late night movie
Two bedrooms are on the ground floor of the home, all with crisp, clean, bedding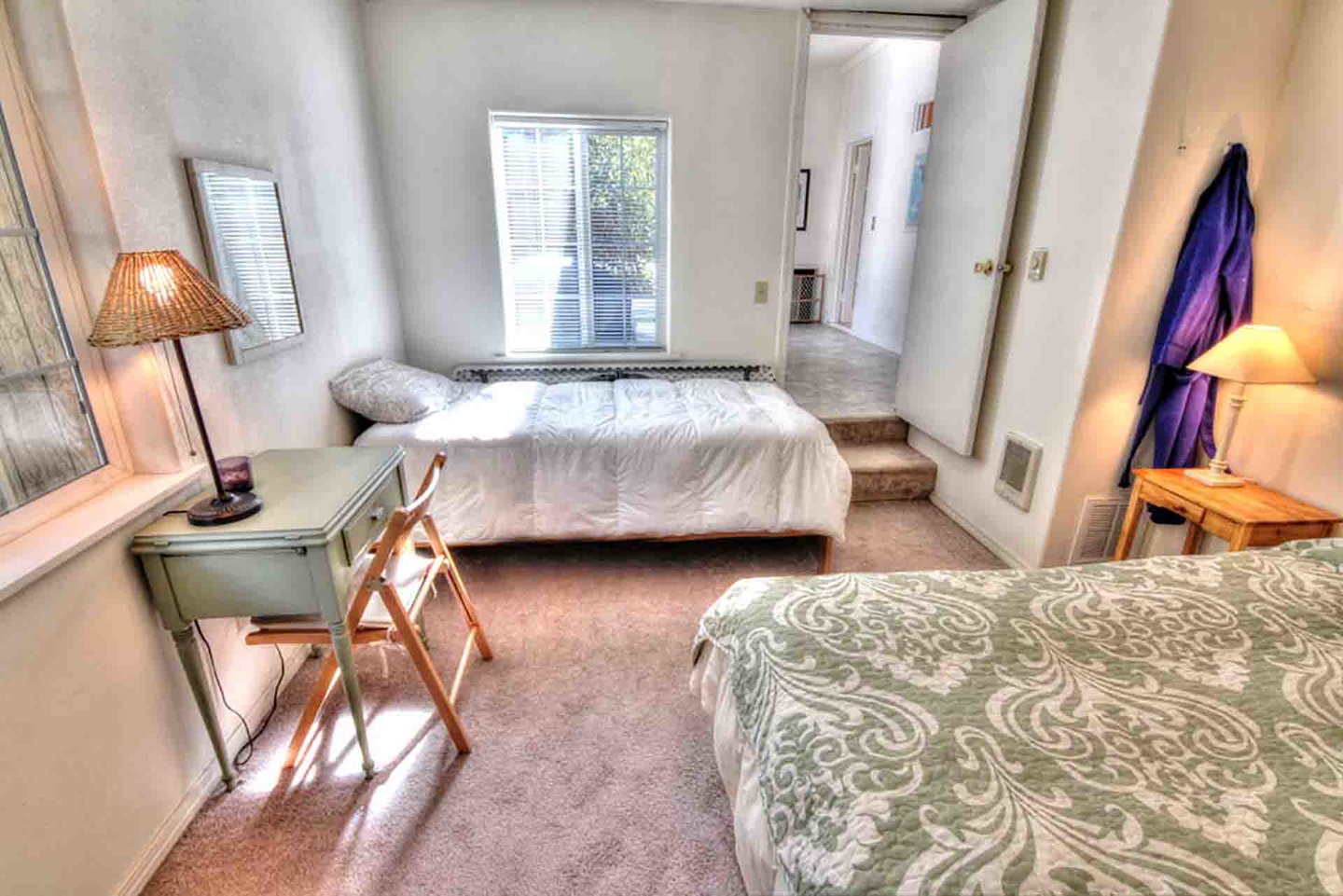 Roomy laundry and mudroom for your convenience
Open floor plan living room with gas fireplace
Wall full of windows providing ample natural lighting.
Cozy deck in fenced backyard
Floor Plan